Kwik Trip presents the game at Fox Cities Stadium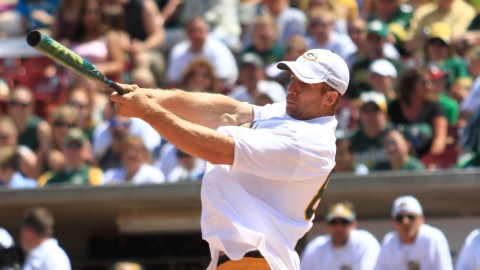 GRAND CHUTE, WI – Green Bay Packers Super Bowl Champion Jordy Nelson will host the annual Charity Softball Game at Fox Cities Stadium on Sunday, June 8. The offense and defense of the Green Bay Packers face each other starting at 1:05pm. Nelson is currently tied for 3rd in the NFC in touchdowns and 5th in the NFC for total yards for wide receivers.
Nelson has played numerous times in this Charity Softball Game, and he is excited to host the game this year. "It will be an honor to host the annual Charity Softball Game this year. I hope that the fans, my teammates and the Packers organization will continue to support this amazing community event that helps so many charitable causes. Everyone will see a great show this year, and of course, a victory for the offense!"
"We are extremely happy to have Jordy on board for this event and, at the same time, want to thank Donald for all of his time and support over the past six years," Timber Rattlers president Rob Zerjav said. "This charity softball event is great for our community and we look forward to another sold out game."
A record crowd of 9,010 were in attendance for the 2013 game – hosted by Donald Driver – that featured a 24-20 victory by the defense.
"Jordy Nelson is a great player and friend," said Driver. "I am excited that he will be hosting the game this year. I want to thank all of the fans for their amazing support during the six years I hosted the game. Thank you to the Timber Rattlers and Packers organizations for supporting the game."
Fans may purchase tickets for the game as part of a package starting Monday, November 18 at 10:00am. The ticket package includes three Timber Rattlers games and the Jordy Nelson game:
Sunday, June 8 – Jordy Nelson Charity Softball Game
Sunday, June 29 – vs. Burlington Bees
Sunday, July 13 – vs. Quad Cities River Bandits
Sunday, August 24 – vs. Beloit Snappers
Prices for the packages are:
Premium Box Seat: $86
Box Seat: $70
Reserved Seat: $50
The first two rows of the seating bowl are the premium box seat option in this ticket package.
Individual tickets for the Jordy Nelson Charity Softball Game presented by Kwik Trip go on sale Thursday, November 21 at 10:00am. Tickets for the softball game are $50 for a premium box seat, $34 for a box seat, $23 for a reserved bleacher seat, and $12 for a general admission grass seat. There are also a limited number of patio tables available at $200. Patio tables seat four people and include waitstaff service and an autographed item from Jordy Nelson.
All You Can Eat Seats are available for $87 for the softball game only. These seats are located on the first base side of the stadium, include a ticket to the Jordy Nelson Charity Softball Game and an all-you-can eat picnic. These seats go on sale November 21.
Tickets to the Jordy Nelson Charity Softball Game are available in one of the following ways: Over the phone at 800-WI-TIMBER or (920) 733-4152; in person at the Fox Cities Stadium Box Office; or through the internet at www.timberrattlers.com. The Timber Rattlers box office is open from 9am until 5pm Monday through Friday.
This article originally appeared on the official website of the Wisconsin Timber Rattlers. Click here to view the original story.