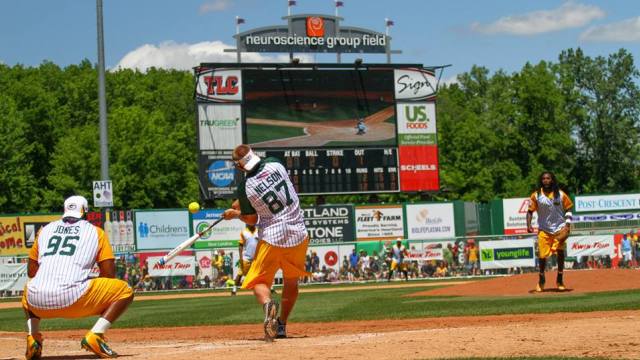 Neuroscience Group Field at Fox Cities Stadium to host event on Sunday, June 14
GRAND CHUTE, WI – Green Bay Packers Super Bowl Champion Jordy Nelson will host the annual Charity Softball Game at Neuroscience Group Field at Fox Cities Stadium on Sunday, June 14, 2015. This will be the second year Nelson has been the host of the game between the offense and defense of the Green Bay Packers. Game time is 1:05pm.
"I am honored to host the Charity Softball Game again in 2015," said Nelson. "My family and I really enjoyed the experience last year, and we look forward to having fun with the fans again this year. I want to thank the fans for supporting this game and helping us to raise money for needed community programs."
Nelson is currently 2nd in the NFC in receiving yards, tied for 2nd in touchdowns by a receiver, and 4th in receptions.
"The Timber Rattlers are excited to have Jordy Nelson back as the host for this Charity Softball Game and we are proud to once again be the host facility," said Timber Rattlers president Rob Zerjav. "Jordy has solidified himself as a member of this community and we are excited to play a part in helping raise funds for local community programs."
The offense defeated the defense 26-11 in front of a crowd of 7,354 in the 2014 game. Nelson, who participated in the game when it was hosted by Donald Driver, hit a pair of home runs in last year's game.
Fans may purchase tickets for the game as part of a four-game package starting Wednesday, November 5 at 10:00am by calling (800) WI-TIMBER, (920) 733-4152, or in person at the Neuroscience Group Field at Fox Cities Stadium Box Office. The package includes a ticket for the Jordy Nelson game and three vouchers that may be used for any Timber Rattlers regular season home game played on a Sunday in 2015. The ticket packages are not available online.
Prices for the four-game packages are:
| | |
| --- | --- |
| Premium Box Seat: | $91 |
| Box Seat: | $76 |
| Reserved Seat: | $52 |
The first two rows of the seating bowl at Neuroscience Group Field at Fox Cities Stadium are the premium box seat option in this ticket package. Vouchers for the Timber Rattlers games must be redeemed at the box office and are based on availability.
Individual tickets for the Jordy Nelson Charity Softball Game presented by Kwik Trip go on sale Wednesday, November 12 at 10:00am. Tickets for the softball game are $55 for a premium box seat, $40 for a box seat, $25 for a reserved bleacher seat, and $12 for a general admission grass seat. There are also a limited number of patio tables available at $225. Patio tables seat four people and include waitstaff service and an autographed item from Jordy Nelson.
All You Can Eat Seats are available for $87 for the softball game only. These seats are located on the first base side of the stadium, include a ticket to the Jordy Nelson Charity Softball Game and an all-you-can eat picnic. These seats go on sale November 12 over the phone at 800-WI-TIMBER or (920) 733-4152; in person at the box office; or through the internet at www.timberrattlers.com.
If you are interested in sponsorship opportunities, please contact Lammi Sports Management at (414) 727-3600.
The Jordy Nelson Charity Softball game benefits Young Life, an organization for middle, high school and college students that pairs them with adults focused on the things that matter most to kids – fun, adventure and friendship. Founded in 1941, Young Life has more than 3,000 staff and 30,000 volunteers reaching more than 1,000,000 kids annually.
This article originally appeared on the official website of the Wisconsin Timber Rattlers. Click here to view the original story.