Here is a link to the original story on the team's website.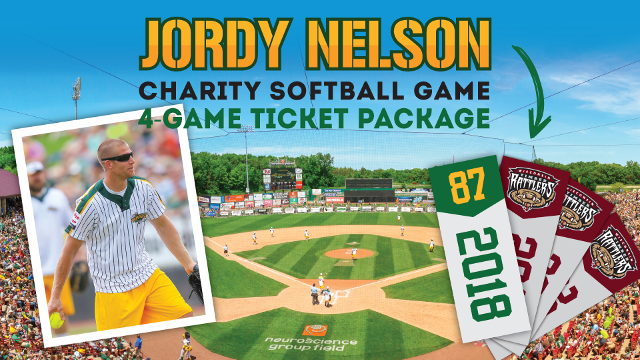 GRAND CHUTE, WI – The 2018 Jordy Nelson Charity Softball Game will be held at Neuroscience Group Field at Fox Cities Stadium at 12:05pm on Saturday, June 2. Individual tickets for the game will go on sale Tuesday, November 21 at 10:00am. Fans can get tickets a week ahead of that date by purchasing a special four-game ticket package that includes tickets to the softball game and vouchers good for any three Wisconsin Timber Rattlers home games (except Opening Day) during the 2018 regular season.
"My charity softball game will be better than ever because we are going to mix up the teams," said Nelson. "It's possible that Randall Cobb and I could be going head-to-head! The only guarantee is that my team will win on the field and Young Life will win most of all!"
In the 2017 game, the offense jumped out to a huge 18-3 lead before switching scores with the defense. The offense rallied from their own deficit for a 27-25 win in front of 8,228 fans.
The four-game ticket package will be available to fans on Wednesday, November 15 at 10:00am through the Timber Rattlers Ticket Office by calling (800) WI-TIMBER, (920) 733-4152, or in person at the Neuroscience Group Field at Fox Cities Stadium Box Office. These ticket packages will also be available online through TimberRattlers.com.
Prices for the four-game packages are:
Premium Box Seat: $108
Box Seat: $87
Reserved Seat: $59
The first two rows of the seating bowl at Neuroscience Group Field at Fox Cities Stadium are the premium box seat option in this ticket package. Vouchers for the Timber Rattlers games must be redeemed at the box office and are based on availability.
Individual tickets for the Jordy Nelson Charity Softball Game, which includes the sponsor game at 10:00am and the Home Run Derby at 11:00am, go on sale Tuesday, November 21 at 10:00am. Tickets for the softball game are $69 for a premium box seat, $48 for a box seat, $29 for a reserved bleacher seat, and $14 for a general admission grass seat. There are also a limited number of patio tables available at $255. Patio tables seat four people and include waitstaff service and an autographed item from Jordy Nelson.
All You Can Eat Seats are available for $87 for the softball game only. These seats are located on the first base side of the stadium and include a ticket to the Jordy Nelson Charity Softball Game and an all-you-can-eat picnic.
If you are interested in sponsorship opportunities, please contact Lammi Sports Management at (414) 727-3600.
The Jordy Nelson Charity Softball game benefits Young Life, an organization for middle, high school and college students that pairs them with adults focused on the things that matter most to kids – fun, adventure and friendship. The 2017 game raised $130,000 for Young Life. Founded in 1941, Young Life has more than 3,000 staff and 30,000 volunteers reaching more than 1,000,000 kids annually.
The Timber Rattlers box office is open from 9am until 5pm Monday through Friday.
This story was not subject to the approval of the National Association of Professional Baseball Leagues or its clubs.