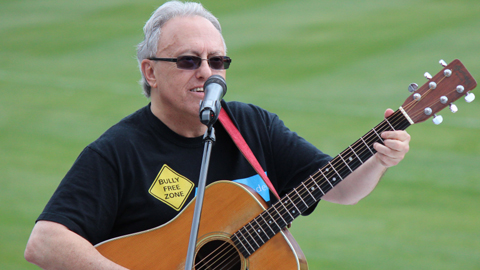 (Fort Mill, S.C.) — Knights Stadium, home of the Charlotte Knights since 1990, is set to become a "bully-free" zone during the upcoming 2013 season as the Knights and The Foundation for Respect Ability are introducing an Anti-Bullying program that will focus on educating kids, teachers, and parents on the importance of living a bully-free life. The program will feature two 11:15 a.m. games during the month of April focused on Education Days for the surrounding school districts of North Carolina & South Carolina. The first game is Tuesday, April 16 and the second game is set for Wednesday, April 24. Both games are presented by Duke Energy, Barton Malow, and Midrex Technologies, Inc.
"Partnering with the Foundation for Respect Ability enhances the educational component of these two dates and expands our commitment to providing opportunities for the community to enjoy a game at the stadium," said Knights Director of Ticket Sales & Hospitality Sean Owens. "This program gives us a great platform to provide important information about the seriousness of bullying in our life and how to identify, respond, and prevent these acts from occurring."
Featuring interactive concourse displays, a pre-game educational performance and in-game trivia/PSA's, participating schools and organizations will receive a full day of education and entertainment. Tickets are as low as $5 for groups of 15 or more and a $5 lunch meal is available for pre-purchase as well.
"We are very excited to partner with the Charlotte Knights to help create awareness about bullying and to help promote strategies for children, parents and teachers to better deal with this behavior," stated Diane Benson, Executive Director of the Foundation for Respect Ability. "Bullying in sports is also an area of concern and this is a wonderful platform to help to create "upstanders" on and off the playing field."
About the The Foundation for Respect Ability:
The Foundation for Respect Ability is a nonprofit organization that seeks to convert "bystanders" into "upstanders" and to empower people to address bullying in all its forms. Their goal is to facilitate opportunities for communication and to develop programs and strategies for helping parents, students, and educators as they deal with these issues. The work is delivered through music and activities using Operation Respect's Don't Laugh at Me international curriculum. The Foundation offers community workshops for children and parents, in school programs and professional development workshops for staff and teachers. www.xbullying.org
To schedule a group event for Education Days, please contact the Charlotte Knights at 704-357-8071, ext. 2106 or hospitality@charlotteknights.com.
Select single-game tickets are now on-sale online by using the special pre-sale code "presale2013". Full season and partial season ticket packages are on-sale now and can be purchased by calling 704-357-8071 ext. 2106 or online at www.charlotteknights.com. Season Tickets offer such benefits as a VIP parking pass, invitations to special events, and a unique unused ticket program. They are also the best way to ensure priority selection of seats at BB&T Ballpark. Call a Knights' representative today for more details! Knights Baseball… Tradition Never Ends!
This article originally appeared on the official website of the Charlotte Knights. Click here to view the original story.