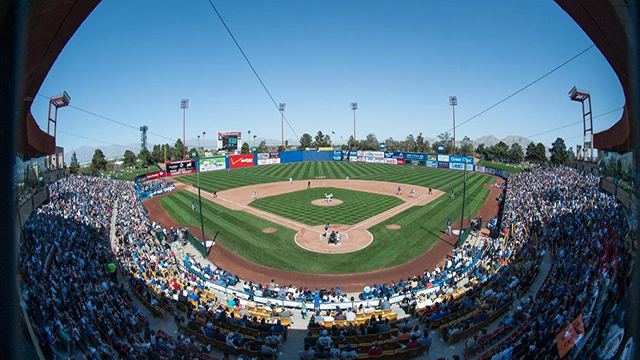 'Lather Up, Then 'Batter Up' with Comprehensive Cancer Centers of Nevada (CCCN) & The 51s
The Las Vegas 51s professional baseball team of the Pacific Coast League (PCL), Triple-A affiliate of the New York Mets and the 2013 & 2014 Pacific Conference Southern Division Champions, announced today they have teamed up with Comprehensive Cancer Centers of Nevada (CCCN) to offer complimentary sunscreen at Cashman Field during the 2015 baseball season. The sunscreen will be available beginning with the Big League Weekend "day game" between the Chicago Cubs vs. Oakland A's on Saturday, March 14 at 12:05 p.m. CCCN medical oncologist Dr. Paul Michael will throw out the ceremonial first pitch at the game.

Fans will be able to protect themselves from potentially harmful UV-A and UV-B rays by visiting one of two CCCN sunscreen kiosks on the main concourse at the ballpark. Additionally, skin-safety messages will be displayed on the videoboard and public address announcements will remind guests to stay proactive with skin protection. Cashman Field ushers will also have a supply of complimentary sunscreen available for fans, so they may conveniently reapply during the game.
"Awareness as well as a preventative approach are critical in preventing skin damage and potentially skin cancer," said James Kilber, executive director of CCCN. "So many of our local families enjoy a trip out to Cashman Field each year. We hope everyone will take advantage of the free sunscreen and skin safety messages this season as they cheer on the 51s to victory."
The partnership offers complimentary SPF 30 sunscreen to the projected 300,000 plus fans that will visit Cashman Field throughout the summer. The 51s have 11 day games scheduled at Cashman Field during its 2015 season.
"We are excited with the partnership with CCCN and it will provide the fans at the ballpark an opportunity to apply sunscreen during the matinee games at Cashman Field," 51s President/COO Don Logan said. "The awareness of skin cancer is very important and with the help of CCCN, it will provide a safer experience for both the players and fans this season."
This article originally appeared on the official website of the Las Vegas 51s . Click here to view the original story.