Here is a link to the original story on the team's website.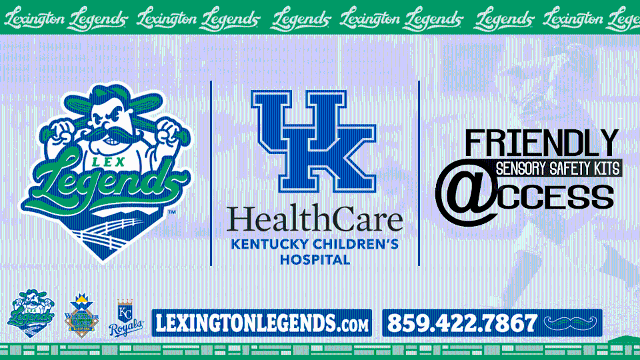 WHITAKER BANK BALLPARK (Lexington, KY) – The Lexington Legends are proud to announce Sensory Friendly Days on Sunday, May 13 and Monday, June 11, 2018 in partnership with UK HealthCare. Along with special considerations around the ballpark before the games, the Legends will have Friendly Access Sensory Safety Kits provided by Life Is Washable Inc. available throughout the entirety of the season.
On the days of May 13 and June 11, fans with sensory sensitivities and their families will be able to enter the ballpark at 11:30 a.m. on Sunday, May 13 and 5:00 p.m. on Monday, June 11 to take part in pre-game festivities they previously may have had to skip. There will be no loud music or public address announcements made during this time. Legends players will be available for autographs and the Toyota Triple Play Zone will be open, also. Legends mascots, Big L and Pee Wee will be on hand, but will not approach children. Instead, they will allow the children to come up to them for autographs and photographs as desired. When gates open for the public at 12:30 p.m. (Sunday, May 13) and 6:00 p.m. (Monday, June 11), children and their families can make their way to Guest Services to pick up one of the thirty Sensory Safety Kits for the remainder of their time at Whitaker Bank Ballpark.
"This new partnership with UK HealthCare opens Legends games to children and adults who normally would not be able to attend due to sensory sensitivities," said Legends President/CEO Andy Shea. "We always want to strive to make our games as accessible as possible and this is a huge step towards that. Families can come out and enjoy a game utilizing the new Sensory Safety Kits that will be available all season long."
Included in the Friendly Access Sensory Safety Kits provided by Life is Washable Inc. and sponsored by UK HealthCare, are stickers, a wrist band, ID card, communication card, a sensory toy, anti-glare glasses, earmuffs and tissues. At the end of each night, fans will return the kits to Guest Services so they can be sanitized, restocked, and ready for the next event. With the partnership with UK HealthCare, there are certain items provided that the child can keep after the game.
"We are thrilled to join the Legends' efforts to provide an opportunity for more of Kentucky's kids to enjoy America's favorite pastime. The sensory kits will allow children who would otherwise not be able to attend a baseball game due to loud noises and other environmental factors to enjoy a fun day at the ballpark, making lifelong memories," said Scottie Day, Interim Chair, UK Department of Pediatrics.
Previously, minor league hockey teams have done similar nights, but the Legends are ensuring that fans can enjoy games for the entirety of the season by utilizing the Friendly Access Sensory Safety Kits. Thirty kits will be stocked in Guest Services to start the 2018 season, as interest and demand dictates, more kits can and will be added to inventory for fan use.
For more information about Sensory Friendly Day, contact Sarah Bosso at sbosso@lexingtonlegends.com or 859-422-7855. The Legends, a Class A affiliate of the Kansas City Royals and a member of the South Atlantic League, kickoff the 2018 season at Whitaker Bank Ballpark against the Charleston RiverDogs, an affiliate of the New York Yankees, on Opening Day – April 5, 2018. For ticket information, call (859) 422-7867 or visit LexingtonLegends.com.
This story was not subject to the approval of the National Association of Professional Baseball Leagues or its clubs.