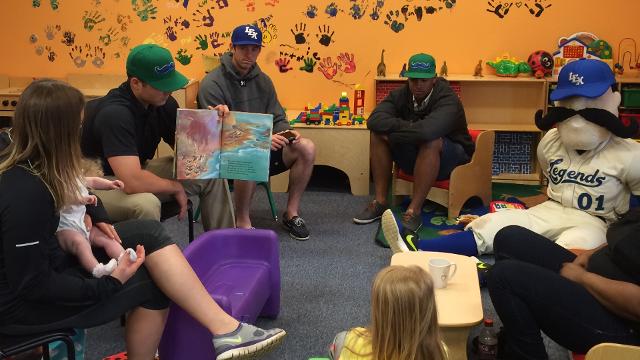 (WHITAKER BANK BALLPARK, Lexington, Ky.) The Lexington Legends are celebrating their 15th year of operation of 2015, and part of that celebration includes a special campaign to continue giving back to the community.
The Legends' "15 Days of Service" campaign will include volunteer work with 15 different organizations in the Lexington area. Legends players as well as front office staff will be involved.
The first of the 15 stops was made April 20 at Greenhouse 17, an advocacy agency in Lexington committed to ending intimate partner abuse in families and the community.   Legends players Alfredo Escalera, Kyle Pollock, and Michael Hill, along with Big L and front office staffers Rebecca Barnes, Anne Brenner, Ty Cobb, April Dietrich, Tim Vieira and Corie Roberts spent time with children at Greenhouse 17 and also helped out with some gardening chores.
Other agencies that will be part of "15 Days of Service" include the Ronald McDonald House, Sweet Blessings, Hope Center, Toyota Bluegrass Miracle League, Salvation Army, Central Kentucky Riding for Hope, United Way, God's Pantry, the Nest, GLEAN and Habitat for Humanity. More will be added as the 2015 season continues.
"Community service has always played a very important part of who we are as an organization here at the Lexington Legends," said Barnes, the Legends' director of community relations. "Being able to give back to the community that has supported us for the last 15 years is a great way to celebrate our 15th anniversary season."
"Fifteen days of service really brings our community service efforts into focus," added Legends President/CEO Andy Shea. "We'll never lose sight of the importance of giving back, but the celebration of the 15th season of Legends baseball provides a special incentive for all of us."
For more information, contact Barnes at 859-422-7855.
This article originally appeared on the official website of the Lexington Legends. Click here to view the original story.