Here is a link to the original story on the team's website.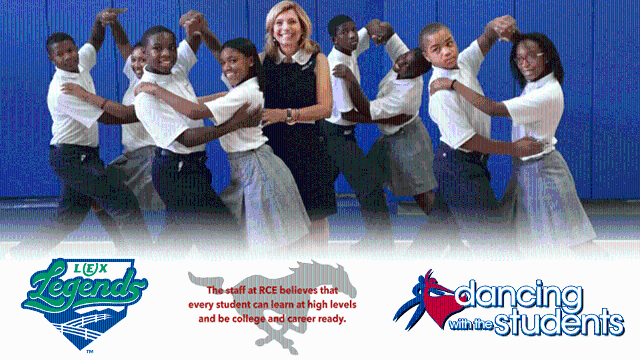 WHITAKER BANK BALLPARK (Lexington, KY) – Fourth grade students at Russell Cave Elementary will put on their dancing shoes and take a new approach to Arts and Humanities curriculum through the Legends community partnership with the not for profit "Dancing with the Students," based out of Philadelphia, Pennsylvania.
"Dancing with the Students" came to Lexington in the Spring of 2017 via Lexington Legends Secretary and Principal Sue Martinelli Shea, who founded the non-profit organization in 2005. The first students involved with the program in Lexington were sixth, seventh and eighth graders at Crawford Middle School, and the expansion of the program will mirror the first, having Russell Cave Elementary fourth graders also competing in 10 weeks of dance class and 9 weeks of instruction with the 10th week culminating in a grand finale competition. The students will be taught in two sessions by Arthur Murray trained dance teacher Rae Mickelwait and will learn four dances: Waltz, Tango, Merengue, and Swing. The first class will be October 9 & 10, 2017 at 9:30am with the grand finale slated for December 18, 2017.
"I started the non-profit, "Dancing with the Students" in 2005 in Philadelphia in one school" said Martinelli Shea. "My intent was to teach manners and respect to students while having fun learning to dance. Bringing "Dancing with the Students" to Lexington, Kentucky is a dream come true for me. In the Spring of 2017, our wonderful dance teacher, Rae Mickelwait, taught two classes of Ballroom Dancing at Crawford Middle School. This Fall, DWTS will expand to Russell Cave Elementary School." Marinelli Shea continues, "I was raised by parents who stressed giving back and getting involved. I am so proud of my son, Andy Shea, who lives that through the work he does personally as well as professionally with the Lexington Legends, who are the recipient of the 2017 South Atlantic League Community Service Organization of the Year Award."
This partnership expansion would not have been possible without the support of Russell Cave Elementary School administrators and educators, like Kyle Lionberger, Practical Living Teacher, who said " [Dancing with the Students] is a great opportunity to teach our students arts & humanities in a different way. Students learn that dancing can be a lifetime activity that provides opportunity for movement, social interaction and fun while giving even the quietest students a voice."
Arthur Murray dance instructor Rae Mickelwait added to Lionberger's sentiments and said "I am so excited to continue to share my passion for ballroom dancing this semester with more children! Through dancing we get to convey the importance of team work and partnership, eye contact and even dressing the part for a performance. All these skills can help children on their journey to success in high school, college and beyond. I am so very blessed to be a part of "Dancing with the Students," to be out in the community, as well as teaching at Lexington Arthur Murray.
Media is welcome to attend the first class and grand finale for photos and interviews with students. For more information, about Dancing with the Students, visit www.dancingwiththestudents.org or contact Sarah Bosso atsbosso@lexingtonlegends.com or 859-422-7855. The Legends, a Class A affiliate of the Kansas City Royals and a member of the South Atlantic League, will return home to Whitaker Bank Ballpark against the Charleston RiverDogs, an affiliate of the New York Yankees, on Opening Day – April 5, 2018. For ticket information, call (859) 422-7867 or visit LexingtonLegends.com