Here is a link to the original story on the team's website.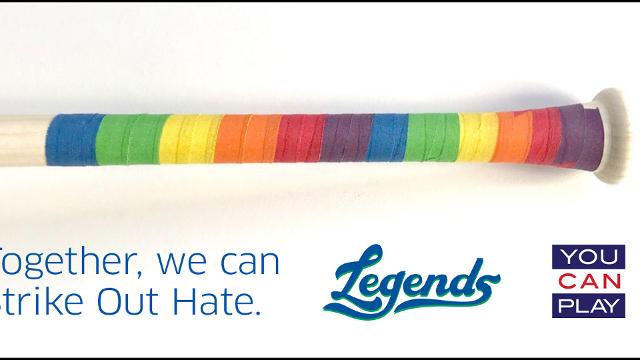 WHITAKER BANK BALLPARK (Lexington, KY) – The Lexington Legends, in partnership with Minor League Baseball's new initiative MiLB Pride, announce today Pride Day on June 23rd. MiLB Pride is the largest documented Pride celebration in professional sports and the Legends' event will help kick off Pride Week in Lexington.
"We are excited to help kick off Pride Week in Lexington this year! We want every fan that walks through our gates to know that they are welcome here. Baseball is for everyone," said Legends President/CEO Andy Shea.
From 11am until the 3rd inning of the Legends game, the organizations will be accepting donations. Attendees can choose which organization they would like to donate to with donation boxes for each organization. At the start of the 3rd inning, the donations will be counted and tallied. The Legends will match the donations (up to $10,000) in proportion of the amount of the total donations the organization received. The total will be announced during the 4th inning. A cash bar will be open while DJ Crow spins the tunes and fans can snack on hors d'oeuvres.
Ten organizations from the Lexington area will attend the event: Arbor Youth Services, AIDS Volunteers, INC. (AVOL), JustFundKY, Kentucky Bourbon Bears, Moveable Feast, Lexington Fairness, Pride Community Services Organization (PCSO), PFLAG, and the University of Kentucky Office of LGBTQ+ Resources. The Imperial Court of Kentucky will also be performing throughout the event.
Throughout the game, the Legends will be featuring the ten organizations to bring more awareness of what each does for the LGBTQ+ Community in Lexington.
Tickets are $10 each and they include entrance to the event as well as a ticket to the Legends game with first pitch at 2:05pm. Parking will be free for attendees as well.
Gates for the Legends game will open at 12:30pm for Family Playtime on the Outfield and kids (12 and under) get in FREE!
The Legends, a Class A affiliate of the Kansas City Royals and member of the South Atlantic League, play all home games at Whitaker Bank Ballpark in Lexington, Kentucky. For ticket information, call (859) 422-7867 or visit LexingtonLegends.com.
This story was not subject to the approval of the National Association of Professional Baseball Leagues or its clubs.