Organization launches new initiatives to reduce energy and waste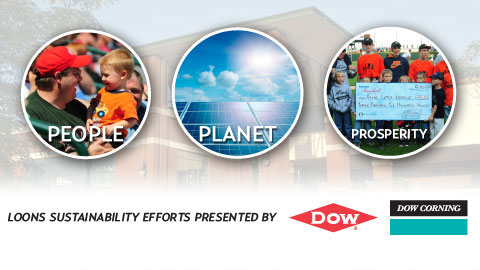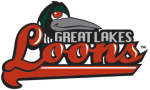 MIDLAND, Mich. – In October 2012, the Great Lakes Loons and Dow Diamond announced a corporate partnership with the Dow Chemical Company and Dow Corning to enhance sustainability practices across all aspects of the organization. Today, the Loons released their first quarter report detailing efforts made to reach the ambitious goal of reducing total energy used, water used and waste generated at Dow Diamond by 50 percent in 2020.
Highlights from the first quarter report include a new composting program for Dow Diamond's food waste, as well as the installation of LED lighting and occupancy control sensors that will significantly reduce kilowatt hours of electricity used and carbon dioxide emissions generated from lighting fixtures.
The composting program was launched in conjunction with Morgan Composting, located in Sears, Mich., to deposit food waste generated from Loons home games and events at Dow Diamond. Once fully composted, the material will be used to fertilize Dow Diamond's grounds and flower beds. This program will reduce landfill waste, while also reducing the organization's dependence on fertilizer products for Dow Diamond's grounds.
The organization recently expanded the use of occupancy control sensors throughout various areas of Dow Diamond. The sensors will result in the reduction of approximately 6,445 kilowatt hours used to light areas of Dow Diamond and lower carbon dioxide emissions by approximately 15,588 pounds-per-year.
More efficient LED lighting has also been installed in various areas of Dow Diamond, which will result in an energy reduction of approximately 15,303 kilowatt hours and reduce the carbon dioxide generate every year by approximately 36,575 pounds.
Over the past several months, Loons staff members have spent time learning from corporate sustainability leaders at Dow and Dow Corning, as well as other regional organizations. From those conversations, the Loons have outlined various areas to increase efficiency, while also reducing the use of energy, water and the amount of waste generated.
"Our organization is fortunate to have the opportunity to learn from world class, global sustainability leaders at both Dow and Dow Corning," said Loons President and General Manager Paul Barbeau. "Our sustainability partnership is already paying dividends with the new initiatives launched and we will continue to work closely with Dow and Dow Corning to find innovative ways to reach our 2020 sustainability goals."
Click here to view the Great Lakes Loons First Quarter Sustainability Report for 2013.
The Great Lakes Loons are a seventh-year Single-A partner of the Los Angeles Dodgers. For tickets and more information about the Loons, visit Loons.com or call 989-837-BALL.
This article originally appeared on the official website of the Great Lakes Loons. Click here to view the original story.