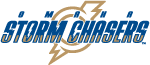 At the Sarpy County Chamber of Commerce Annual Awards Banquet at Embassy Suites in La Vista Thursday evening, Omaha Storm Chasers President and General Manager Martie Cordaro was named the 2014 Business Leader of the Year.
It was the first such honor for Cordaro, who was unable to be in attendance to personally accept the award with the Pacific Coast League Fall Meetings taking place in Chicago this week. It is the second time in six years an Omaha Royals/Storm Chasers Executive has been named the Business Leader of the Year, as former team President Alan Stein was honored in 2009.
"I am truly humbled and this award shows all the hard work by our staff in the four short years at Werner Park right here in beautiful Sarpy County," said Cordaro in his taped message played at the ceremony. "Congratulations to all the nominees in this crowded field. I am speechless, which doesn't happen very often. Let's go out and continue to make Sarpy County the place to live in all of Nebraska."
The Business Leader of the Year nomination field also included Russ Daub, Margaret White, Dan Zongkers and Tom Greco.
This article originally appeared on the official website of the Omaha Storm Chasers. Click here to view the original story.