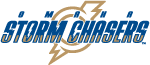 OMAHA, Neb. – As part of the Omaha Sports Hall of Fame Induction Ceremony, Omaha Storm Chasers President and General Manager Martie Cordaro was honored with the Jack Lewis Community Service Award. The event was held at the University of Nebraska-Omaha's Scott Conference Center.
"The Storm Chasers are not validated by Championship rings and trophies, but are with the results that show the staff is truly dedicated to the area we live and work in," said Martie Cordaro, President and General Manager of the Omaha Storm Chasers. "Our work is not important unless we have an impact on the lives of the people who support us, and that is what we continue to try to live up to every day."
The Jack Lewis Service Community Service Award is the third community-based honor the Storm Chasers have received since the end of the 2014 season, and second for Cordaro as he was named "Community Partner of the Year" by Community 360 last September. The team was honored at the PRSA Nebraska Paper Anvil Awards Gala last December with the 2014 Community Service Award.
The Storm Chasers had a record-setting 2014 in terms of community involvement as the charitable arm of the team, the Home Run Foundation of Greater Omaha, donated $558,733 to local charities. The total was the largest since the team became the Storm Chasers in 2010.
The 2015 Hall of Fame inductees were Bruce Benedict, Ken Geddes, Peaches James, Christy Johnson-Lynch, Charles "Deacon" Jones, the 1985 Omaha Creighton Prep Football team and horse "Omaha."
In addition to the honor for Cordaro the Westside High School baseball team was named Sportsmen of the Year, Creighton Volleyball's Kelli Browning was named Sportswoman of the Year and Boxing's "Fighter of the Year" Terence "Bud" Crawford was named the Founders Award winner.
The Omaha Sports Hall Of Fame was founded in 2006, with a goal to provide a permanent place to honor individuals with strong ties to Omaha who have achieved tremendous success through athletics.
This article originally appeared on the official website of the Omaha Storm Chasers. Click here to view the original story.