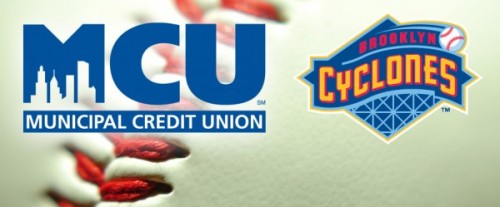 Municipal Credit Union (MCU) is launching the first MCU Youth Baseball and Softball Clinic Series. The Clinics, which are open to children 7 – 14 years of age, will be held on Monday, June 23, Wednesday, July 16 and Monday, August 4 at MCU Park before the Brooklyn Cyclones baseball games. The Youth Baseball and Softball Clinic Series is part of MCU's corporate commitment to giving back to the communities in which it serves, in particular the youth of the community.
John Franco, MCU spokesperson and Mets Hall of Fame Pitcher, will be the Head Coach of the Clinics. Current Cyclones players, area high school coaches and players, and other special guests will also serve as volunteers to coach Clinic participants.
Youth participating in the Clinics will take part in drills on fielding, running, throwing, and injury prevention/stretching. They will also be able to take part in a question and answer session with volunteer coaches and a photo op with John Franco.
Each participant will also receive four tickets to that evening's Brooklyn Cyclones game at MCU Park. There is a limit of 100 participants per clinic, and participation will be on a first come, first serve basis.
"I am excited to be part of the MCU Youth Baseball and Softball Clinics this summer. My lifelong dream of playing professional baseball began in Brooklyn, and the instruction and encouragement I received from coaches throughout my career allowed me to live that dream. Being able to give back to the community by teaching young ballplayers the right way to play is something I am honored to do, and I'm so proud to work with MCU and the Brooklyn Cyclones to provide the City's kids with this invaluable opportunity," said Franco.
"MCU is proud to host our first annual Youth Clinic series at MCU Park this summer. We are honored to work with the Brooklyn Cyclones and our spokesperson John Franco to provide a unique opportunity for young baseball and softball players to receive professional instruction on a professional field, and we hope that this program could continue to grow as another shining example of the work that we do as an institution to give back to the communities which we serve," said Kam Wong, President/CEO of Municipal Credit Union.
"We are thrilled to have the opportunity to work with MCU for the Youth Baseball and Softball Clinics. As an organization, we pride ourselves on being active members within our community while also helping to grow the game of baseball with young people throughout the city. This program helps accomplish both of those goals, while also providing kids with the once-in-a-lifetime opportunity to play on the same field that many current major leaguers, including Curtis Granderson and Daniel Murphy, once played on," said Steve Cohen, Cyclones Vice President.
To participate in any of the Clinics, individuals must sign up at www.nymcu.org/youthclinics or CLICK HERE.
This article originally appeared on the official website of the Brooklyn Cyclones. Click here to view the original story.