Rattlers team up with Neuroscience Group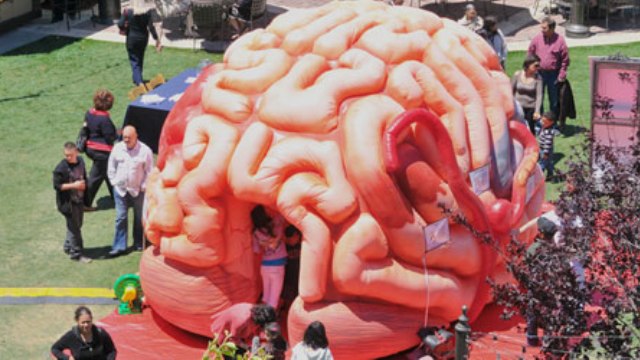 Fans will see something at the Wisconsin Timber Rattlers game on Friday, June 27 that they have never seen at a Timber Rattlers game before…a gigantic MEGA Brain! It's all part of Strike Out Stroke Night presented by Neuroscience Group and the Timber Rattlers.
The MEGA Brain provides visitors with a highly interactive educational experience about the central nervous system's most critical organ. Visitors can step inside the 18 foot long by 14 foot wide by 12 foot high human brain, learn about the various structures and normal brain function, observe examples of brain trauma and disease, and view displays explaining some of the latest neurological medical treatments.

"We are so excited to be able to facilitate the Strike Out Stroke program, and to have the MEGA Brain available with which to educate people about the signs of a stroke," said Cheryll Poissant, Director of Clinical Operations for the Neuroscience Group. "Our ultimate goal is to save lives through education and awareness."
The MEGA Brain will be on display at Neuroscience Group's main clinic located at 1305 W American Dr in Neenah on Friday, June 27 with Timber Rattlers players and Fang, the team mascot from 9:00am to noon. The MEGA Brain will be in front of the Neuroscience Group Field at Fox Cities Stadium beginning at 4:30pm on June 27.
Fans will also be able to stop by a Neuroscience Group information table on the main concourse for complimentary blood pressure screening.
"We're very excited to partner with Neuroscience Group and Strike Out Stroke to help spread awareness about the signs of a stroke," said Rob Zerjav, Timber Rattlers President. "We're also excited to showcase the MEGA Brain to our fans as a way to further provide a memorable interactive educational experience."
The game is also Peanut Free Night and North Shore Bank Family Night presented by Y100. No peanuts will be sold in the concession stands or allowed into the stadium as part of Peanut Free Night. For North Shore Bank Family Night, Children 12 and under receive a voucher that is good for a free hotdog and soda and children 14 and under may run the bases courtesy of Molina Healthcare after the postgame fireworks display.
Tickets for this game are available online, over the phone at (920) 733-4152 or (800) WI-TIMBER, or in person. The Neuroscience Group Field at Fox Cities Stadium Box Office is open from 9:00 am until 5:00 pm Monday through Friday and Saturdays from 10:00 am to 3:00pm.
This article originally appeared on the official website of the Wisconsin Timber Rattlers. Click here to view the original story.