Gates Open Early at 5:30 p.m.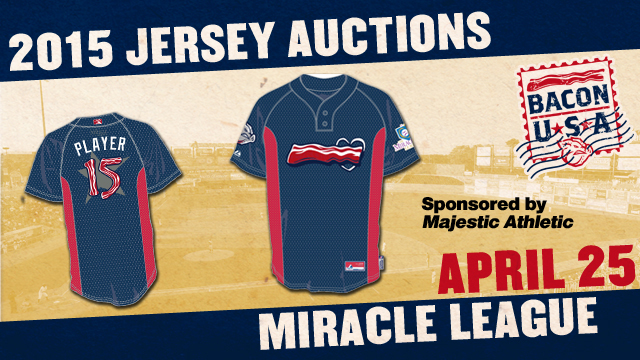 The Lehigh Valley IronPigs will play host to a Miracle League exhibition game and also wear commemorative Miracle League inspired jerseys provided by Majestic Athletic during their game against the Buffalo Bisons on Saturday, April 25 at Coca-Cola Park. The game-worn jerseys will be auctioned off with all proceeds benefiting the Miracle League of the Lehigh Valley and the Miracle League of Northampton County.

The Miracle League exhibition game between the Lehigh Valley team and the Northampton squad will take place from 5 p.m. to 5:45 p.m. In order to allow fans to watch the one-inning contest, all Coca-Cola Park gates will also open promptly at 5 p.m. Dozens of children will take part in the 8th annual Miracle League game at Coca-Cola Park. During the game, each child will have the opportunity to bat and play in the field and the IronPigs players will serve as "angels" and assist the players in all areas of the game.
The Miracle League is dedicated to providing children with special needs and other development disabilities an opportunity to play baseball. Presently there are 250 Miracle League organizations worldwide that provide opportunities to over 200,000 children and young adults with disabilities. For more information on how you can make a difference and support the local Miracle League chapters, please visit miracleleaguelv.org and miracleleagueofnc.org.
IronPigs fans can bid on their favorite player's jerseys from anywhere with the easy-to-use Qtego service that allows fans to place bids, receive notifications when outbid and check the status of their item via text messages on their mobile phones. Fans without texting access can even call in their bid after registering their phone at Coca-Cola Park.
Register your phone from anywhere in the U.S. by texting "Pigs" to 79230. The bidding begins on April 24 and ends promptly at the end of 7th inning of the April 25 game. Detailed instructions on how to place your bid will be made available at ironpigsbaseball.com.
Winning bidders will have the opportunity to go on the field immediately following the game to have their jersey autographed. Bidders not in attendance at Coca-Cola Park can either pick up their signed jersey at a later date or have it mailed directly to them.
This article originally appeared on the official website of the Lehigh Valley IronPigs. Click here to view the original story.