Dash organization rewards hard-working students in the Triad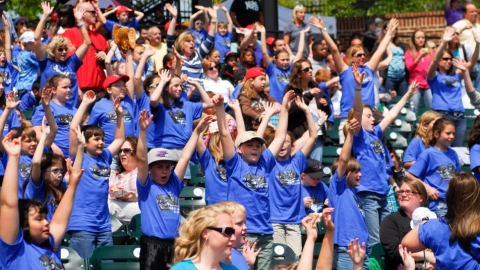 The Winston-Salem Dash have already partnered with more than 50 schools in eight counties throughout the Triad for their annual MVP Education Program, which will accept new schools leading up to Opening Day on April 3.
The Dash MVP Education Program is an incentive-based program that uses the analogy of advancing around the baseball diamond to encourage students to strive for academic excellence. The program can be used to enhance any school subject's curriculum and encourage extracurricular participation.
As students achieve the goals established by their teachers, they will advance around the diamond. At each base, a student will receive a prize from the MVP Education Program's sponsors: Airbound Trampoline Park, BB&T, Domino's, Hanesbrands, Holiday Tours and the YMCA of Northwest North Carolina.
All participating schools receive 50 passes to the Dash's free MVP Day at BB&T Ballpark on Saturday, May 17. The Dash also set up an outing with each school for a Dash home game. For these games, all students and their families are able to purchase tickets at a discounted price.
Schools from around the area can still participate in the MVP Education Program for the 2014 season. Interested schools can contact Paul Stephens at (336) 714-6878 or paul.stephens@wsdash.com for more information. Teachers can also fill out the form at this link to register for the program.
This article originally appeared on the official website of the Winston-Salem Dash. Click here to view the original story.