Includes Recycled Art Contest, plus Kids Eat Free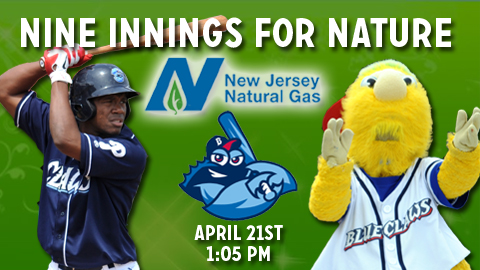 LAKEWOOD, NJ – "Go Green" with the BlueClaws and New Jersey Natural Gas and celebrate Nine Innings for Nature on Sunday, April 21st at the team's 1:05 pm game.
The sixth annual event, a celebration of environmental education thanks to New Jersey Natural Gas, will include several vendors displaying information about going green and energy efficiency.
Plus, 1,000 fans will receive a tree sapling on their way out of the ballpark.
Leading up to this year's Nine Innings for Nature, fans can participate in a new Recycled Art Contest, with the winner receiving one night in a BlueClaws SkyBox for 20 people.
About the Contest
Entries must use recycled content – either recycled materials or items which can be recycled.  Materials may include metals, paper, clothing, rubber, glass and plastic. Permitted use of non-recyclable fasteners, such as glue or tape.
There are no limitations on size or format. However, we do ask that it be safe – no rough edges and it must be sturdy.
Eligible Participants
Deadline:
All entries must be received by April 17th (delivered to FirstEnergy Park). Judging and prizes will be completed during the game.
Each Entry Must Include:
Contestant's First and Last Name
Home Address
Home Phone Number
E-Mail Address
Materials Used to Construct Artwork
Among those that will have tables at the event: New Jersey Natural Gas, The Save Green Project, Jenkinsons, EZNERGY, Sea Bright Solar, Barnegat Bay Blitz DEP, Sustainable Jersey, and United States Green Building Council.
Free Tickets: Fans can earn a free ticket to the game in a number of ways. Anyone that rides their bike to the ballpark will get a free ticket, as will everyone whose last name is Green or Greene (must show ID at the sales window).
In addition, because the game is on a Sunday, regular BlueClaws Sunday promotions will be in place too. Kids Eat Free thanks to ShopRite and Kids Run the Bases after the game thanks to TD Bank.
Dr Bernard's Kids Zone will be open, for free, courtesy of New Jersey Natural Gas from noon (when the gates open) to 1 pm.
To order tickets, call 732-901-7000 option 2 or click here to order online.
– BlueClaws –
This article originally appeared on the official website of the Lakewood BlueClaws. Click here to view the original story.