Learn from Mickey Morandini & Dong Lien on January 17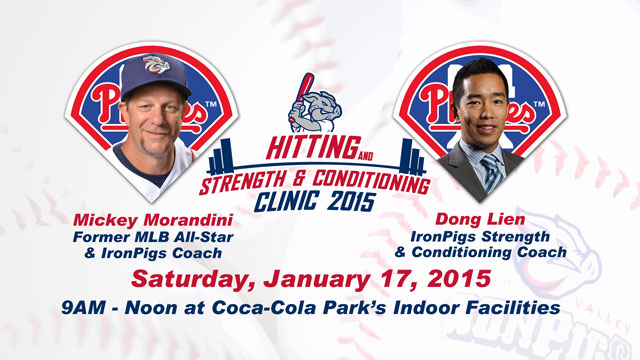 The IronPigs are hosting an indoor hitting and strength and conditioning clinic featuring former Major League All-Star and current IronPigs coach Mickey Morandini along with IronPigs Strength & Conditioning coach Dong Lien on Saturday, January 17 from 9 a.m. to noon at Coca-Cola Park. The clinic – available to current high school baseball players in grades 9 through 12 – costs $80 per player. Interested participants are encouraged to register by contacting Hannah Ishida at (610) 841-1228 or at hishida@ironpigsbaseball.com as space is extremely limited and the event is expected to sell out.
As an added bonus, sign-up by Friday, Jan. 9 and be entered to win one of three Mickey Morandini autographed baseballs!
The clinic will take place in Coca-Cola Park's indoor batting cages and weight room area with players receiving hitting instruction as well as learning strength and conditioning techniques that are designed to prepare them for the upcoming baseball season as well as take their game to the next level. Players must bring their own equipment, including a water bottle. Water jugs will be provided. This event is limited to high school baseball players only.
About the instructors:
Morandini begins his fifth season on the Phillies developmental staff after spending four years as the head coach for Valparaiso (Ind.) High School. After being drafted by the Phillies out of Indiana University in the fifth round of the 1988 draft, the native of Leechburg, Pa., went on to an 11-year major league career that was highlighted by a trip to the 1993 World Series and a selection to the 1995 National League All-Star team. Morandini finished his career batting .268 with 32 home runs, 351 runs batted in and 123 stolen bases in 1,298 games – 956 (74%) of which he donned a Phillies uniform. In fact, Morandini finished his career as the Phillies' all-time leader in most seasons (eight) as a regular starter at second base (later surpassed by Chase Utley, who recorded his ninth in 2013).
Lien is entering his second season as the IronPigs strength and conditioning coordinator and his tenth in the Phillies system. Prior to joining the IronPigs, he spent the previous six seasons in a similar post at the Major League level with the Phillies. Lien holds a Master's from California University of Pennsylvania and was part of the Phillies' 2009 Dick Martin Award winning training staff. Lien was born in Indonesia and resides in West Chester, Pa.
For more information or to register today, please call (610) 841-1228 or email hishida@ironpigsbaseball.com. Space is limited and the registration deadline is Wednesday, January 7, 2015 (if space remains).
The IronPigs 2015 season is presented by Capital BlueCross.
This article originally appeared on the official website of the Lehigh Valley IronPigs. Click here to view the original story.