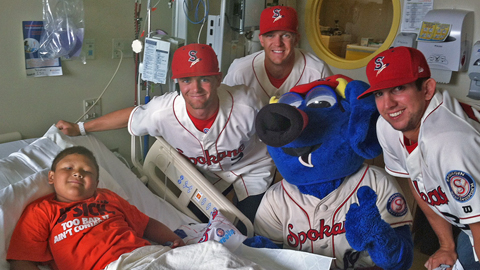 Spokane, WA – For over 10 years the Spokane Indians and Premera Blue Cross have teamed up for the Premera Care-A-Van, a program where children in local hospitals receive a visit from OTTO the Mascot and current Indians players. The first of three Care-A-Van visits was July 17th at Sacred Heart Children's Hospital.
"We love supporting these types of events and are thankful for our partnership with Premera Blue Cross," said Senior Vice President Otto Klein. "These brave kids are going through more than we know and it's rewarding for everyone to see them smile."
In addition to the visit from players Travis Dean, Cody Ege and John Straka, OTTO The Mascot also made an appearance. The children received a Care-A-Van Backpack full of Spokane Indians items courtesy of Premera Blue Cross. The Indians also provide tickets for former patients who have now recovered and are living in the Spokane area.
The Indians and Premera Blue Cross have two more Care-A-Vans planned for this year, including August 20th at at Shriners Hospital for Children. All media are invited to attend.
For more information about the Premera Care-A-Van program, please call (509) 535-2922, or send an email to dtoms@spokaneindians.com.
The Indians will return home next Tuesday, July 23rd, for a quick three-game homestand against the Vancouver Canadians to start the second half of the Northwest League season. That night will be Triple Play Sweepstakes presented by Triple Play Family Fun Park, 103.9 BOB FM, 790 KJRB and Kids Newspaper. If the Indians complete a triple play during the first nine innings of the game, one lucky fan in attendance will win $33,333! Sign up at the game for your chance to win!
Tickets for all Spokane Indians home games are available for purchase at the Indians Ticket Office, spokaneindians.com or ticketswest.com. Reserve your seats today by calling (509) 343-OTTO (6886).
This article originally appeared on the official website of the Spokane Indians. Click here to view the original story.