Here is a link to the original story on the team's website.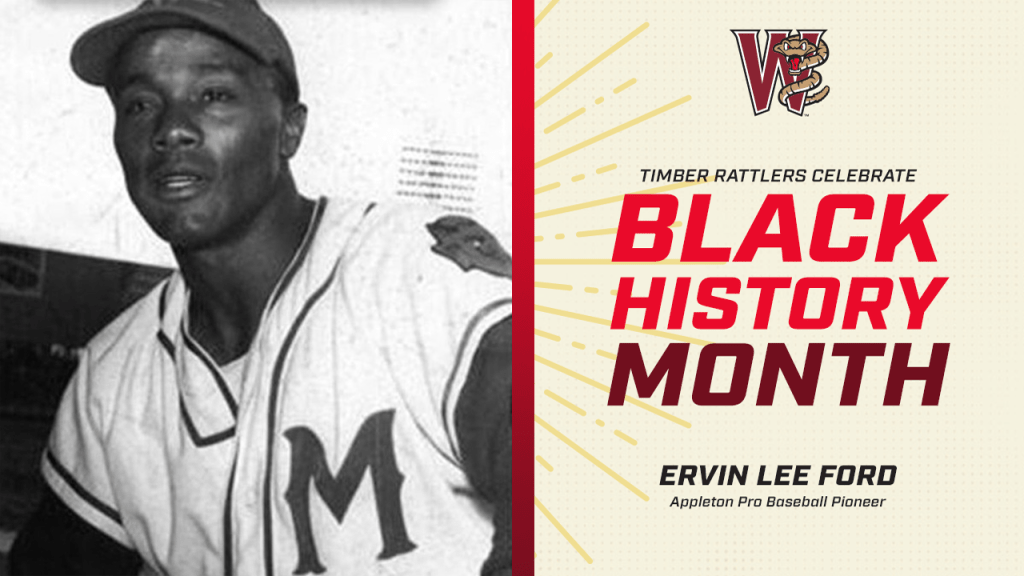 The Wisconsin Timber Rattlers continue Minor League Baseball's celebration of Black History Month with a look at Ervin Ford, the first African-American to play for the Appleton Papermakers.
It was February 5, 1952. Travis Jackson had just stepped off the train in Appleton less than a week after the Boston Braves had named his as the manager of the Papermakers. One of his first questions for the Papermakers board was about the set-up in this northern city for Black players.
Jackie Robinson had broken the color barrier in Minor League Baseball in 1946 in Montreal and in Major League Baseball in 1947 with the Brooklyn Dodgers. The Papermakers, a team in Class-D, had been affiliated with the Cleveland Indians, Philadelphia Phillies, and St. Louis Browns between 1946 and 1951 and had never had an African-American player assigned to them by their parent club.
The Boston Braves has a different approach. According to Jackson, the Braves had signed as many as 20 Black players heading into 1952 and fans of the Papermakers should expect to see some heading their way.
Ervin Lee Ford, born in 1930 in Whiteville, North Carolina, was a graduate of North Carolina A&T University in 1949. He played baseball and ran track there. His speed was his calling card and that is what caught the eye of baseball scouts.
The first mention of Ford in The Appleton Post-Crescent was on April 23, 1952. It was a dispatch from Boston Braves minor league camp in Myrtle Beach, South Carolina.
John Roach appears to have nailed down an outfield post while Ervin Ford, the fastest man in camp, looks like he will patrol another field.
The second mention of Ford in The Appleton Post-Crescent was on April 24, 1952, just three days before the team was scheduled to arrive in Appleton after breaking camp.
The Appleton Papermakers suffered their first major injury of the baseball season on the eve of their departure from the Boston Braves' minor league training camp at Myrtle Beach, South Carolina. Ervin Ford, fleet outfielder, suffered a fractured ankle sliding into second base at Myrtle Beach Wednesday, manager Travis Jackson told Appleton baseball club officials this morning.
This injury kept Ford from joining the team for Opening Day. He would not reach Appleton until July 13. There were a few days off for the Wisconsin State League All-Star Game and Ford didn't get his first start until July 16.
Ervin Ford started his first game of ball since his injury in spring training…He got a big round of applause every time he came to bat but managed to get only one hit, an infield knock in front of the plate. He bats right and throws right.
The paper made note of Ford's speed in an article about a game at Green Bay on July 27, 1952.
Highly touted as a speedster before he fractured his ankle in spring training, he gave the fans a look at what he can run like Saturday night when he singled to right in the ninth inning. The Green Bay outfielder bobbled the ball and the long, loose Ford, running like a foxhound on a fresh scent, went all the way to third.
Unfortunately, Ford's season ended just a few days later:
Ervin Ford, Appleton Papermaker outfielder, dogged with bad luck all year, is being sent to his home in Whiteville, North Carolina with a broken ankle. Ward re-fractured his right ankle according to Dr. George Hegner, team physician. Hegner believes the break occurred in a game at Green Bay Thursday night. Ford complained of his ankle hurting him and he sat out the exhibition game with the Milwaukee Brewers Friday night. X-rays revealed that the ankle was broken.
The Post-Crescent states that Ford had appeared in thirteen complete games since joining the team, had a hit in all those games, and was the team's leading hitter during that time.
Baseball-Reference has Ford 19-for-65 (.292) in sixteen games in his brief time with the Papermakers that season.
Ford started 1953 with Eau Claire in the Class C-Northern League and played ten games there with a .308 average before the Braves sent him back to Appleton on May 19 and he had two hits in that game at Fond du Lac. However, Ford wound up on the injured list in early June, would total just eight more hits over his next seventeen games while healthy for a .179 average, and the Braves would release him on June 16, 1953.
Ford would get back into baseball with the El Paso Texans of the Southwestern League in 1956 where he played 130 games, hit .347, knocked ten homers, drove in 73 runs, scored 102 runs, and stole 22 bases. He split time between El Paso and the Mexico City Reds of the Mexican League in 1957. In 1958, Ford finished his professional playing career with Mexico City.
The last mention that I could find of Ford is this story from Greenboro.com on September 26, 1998 about the North Carolina A&T University Sports Hall of Fame.
Ervin Ford, who graduated in 1949, who graduated in 1949, played baseball and ran track at A&T. he later played with the Negro League's Indianapolis clowns, [the Appleton Papermakers and the Eau Claire Bears in the Boston Braves' minor league system, and with the El Paso Texans and Mexico City Reds].
Ford and his wife of 47 years, Mary George Ford, have eight children, seventeen grandchildren, and nine great-grandchildren.
Ford has supported three children through A&T undergraduate program and currently is supporting his granddaughter, who is attending Graduate School at A&T
Appleton was a small part of Ervin Lee Ford's life. However, he was an important part of Appleton's baseball history and of Appleton's overall story.