Fans need to help "Fierce Fallon" Facebook page reach 13,000 likes to make Echols do "Two-Knuckle Challenge"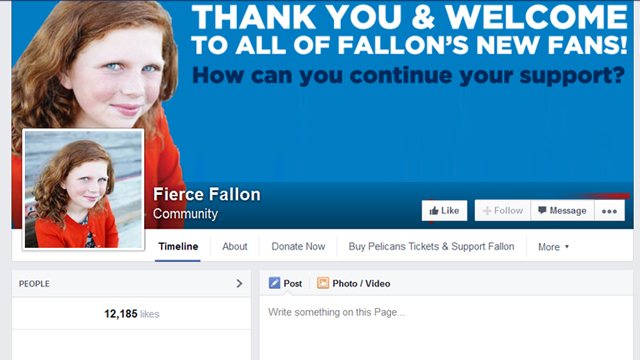 Earlier this month, Myrtle Beach Pelicans Vice President and General Manager Andy Milovich received an in-game prostate exam as he sang "Take Me Out to the Ball Game" during the seventh-inning stretch at a recent Pelicans home game. Milovich accepted the challenge to support Fallon Emery, a nine-year-old girl from Carolina Forest, SC who is fighting brain cancer and receiving her treatments at the Medical University of South Carolina in Charleston. Now, Milovich has challenged the Charleston RiverDogs to become the latest team to join this initiative.
RiverDogs Executive President and General Manager Dave Echols has agreed to participate in the "Two-Knuckle Challenge" on Saturday, August 2 when the RiverDogs host the Hagerstown Suns at 6:05 pm. If fans can push the "Fierce Fallon" Facebook page to 13,000 likes by Saturday's contest, Echols will get a prostate exam as he sings "Take Me Out to the Ball Game" during the seventh-inning stretch.
"Joining the 'Two-Knuckle Challenge' in support of Fallon Emery is a unique way to back this important cause," Echols said. "As a Minor League Baseball franchise, multi-tasking is nothing new for us, but a prostate exam while signing during the seventh-inning stretch is definitely a distinctive endeavor. I just hope that once we get enough likes for 'Fierce Fallon' that I can pull through this exam with a clean bill of health."
Fans are encouraged to like "Fierce Fallon" on Facebook (www.facebook.com/fiercefallon) and learn about her battle against brain cancer. The "Fierce Fallon" page needs 13,000 likes to guarantee that Echols will receive in his in-game prostate exam during the seventh-inning stretch. For more information about Fallon Emery, visit www.fiercefallon.com.
Echols was officially challenged by Milovich on Tuesday afternoon in a special YouTube message. Echols will follow Milovich and Lake Elsinore Storm Owner and President Dave Oster as the third Minor League Baseball executive tabbed for the "Two-Knuckle Challenge" as part of the larger Play It Forward initiative. Echols may nominate the next participant following Saturday's event.
Play It Forward is a community building program that encourages others to help create a positive movement through grass roots activities and sports. The program is the brainchild of Oster. Play It Forward for sports teams all over the country help generate more local outreach programs that will help build positive energy throughout society. The concept is to get sports teams throughout the world to implement this positive energy program in their community, as well as encourage other businesses within their area to do the same. Sports teams can then Play It Forward to other teams in other communities.

Ed Randall's Bat for the Cure, an organization that raises awareness for prostate cancer, will also be at Saturday's game. There will be a silent auction of team-signed memorabilia to raise money for the fight against prostate cancer.
This article originally appeared on the official website of the Charleston RiverDogs. Click here to view the original story.