'Dogs helping Cats

As a means of giving back to the community, the Charleston RiverDogs close the office one day each month during the off-season to complete a day of volunteer service with a local nonprofit organization. On November 12th, eleven members of the Charleston RiverDogs front office staff spent the day in Ravenel, volunteering with Feline Freedom Coalition, Inc. A truckload of sand was delivered to the site, to be dispersed to three of the outdoor cat houses.  The team worked together to shovel the sand into buckets and wheelbarrows, then the sand was spread out into the pens.
Sales manager, Jake Terrell, said, "It always feels good to work as a team toward a common goal, even if it is as simple as moving sand.  You can have fun while trying to figure out creative ways to finish the project, and by throwing sand at your co-workers!"
Together, the RiverDogs staff was able to move all of the sand to complete the project in hours as opposed to the months it had taken the organization in years past.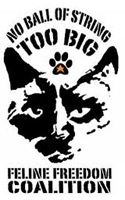 Feline Freedom Coalition, Inc. is a nonprofit organization providing services and support to individuals and community groups interested in using TNR (trap, neuter, return or re-home) to effectively control the overpopulation of free roaming cats in Charleston County.  The organization provides education and information to the public, property decision makers and governmental agencies through the TNR Community Hotline and TNR training programs.  In addition, volunteers facilitate the work of caretakers involved in colony management and support the adoption of feral cats and kittens through Petsmart's Adoption Outreach Program.