Each month during the off-season, the Charleston RiverDogs close the office to complete one day of volunteer service with a local nonprofit organization. On October 22, ten members of the Charleston RiverDogs front office staff spent the day volunteering with Charleston Habitat for Humanity.
The team met Friday morning to assist with the ongoing restoration and renovation of the home of Beatrice Dennis.  Since acquiring the the property,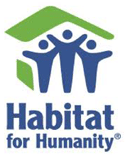 Dennis' home has developed serious structural problems,including crumbling supports and rotting wood, which have led to a serious Eastward lean.  If it were not for a new partnership between the Historic Charleston Foundation, Habitat for Humanity, and the City of Charleston, Dennis may have been forced to continue living in a deteriorating home or move elsewhere, but fortunately that is not the case.  The three organizations have combined forces to renovate the house for Dennis and her family along with the help of community volunteers, including the Charleston RiverDogs staff.
The Historic Charleston Foundation is helping to preserve the home's exterior, but the inside of the home, however,
will resemble a new Habitat home. The Foundation supported the interior renovation to ensure that Dennis and her family would be able to afford to stay there.
"Knowing that this is not just a house, but rather the home of a real family in our community makes this project so special.  I am thankful for the opportunity to lend a hand to Beatrice and her family, and I hope that they have many years of happy memories to come, in this home" stated Sarah Ward, RiverDogs Director of Community Relations.  Habitat and the Foundation are seeking other homes that owner-occupied and somewhat historic to help this way.
Charleston Habitat for Humanity is a locally run affiliate of Habitat for Humanity International, a nonprofit housing organization.  The organization provides affordable home ownership opportunities, whether it be new home construction or home repair, for working families of moderate income in Charleston and North Charleston.   For more information, to donate, or to volunteer please visit www.charlestonhabitat.org.