The Charleston RiverDogs Front Office Staff participated in their monthly Staff Volunteer Day for January on Tuesday the 17th. Members of the staff volunteered with the Nonprofit organization Charleston Parks Conservancy to assist with the beautification of Brittlebank Park in Downtown Charleston.
"We are really excited we were able to assist the great folks at Charleston Parks Conservatory help keep Brittlebank Park beautiful," says RiverDogs Director of Media Relations & Broadcasting Sean Houston. "It was a fun day all around, and we are very happy we could help."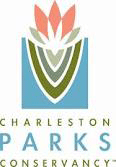 RiverDogs Front Office Staff helped prune and trim bushes throughout the park, rake and clear flower beds, and plant new plants throughout Brittlebank Park. This is the second time in the past year the RiverDogs have volunteered with Charleston Parks Conservancy.
Members of the RiverDogs Front Office Staff dedicate one day each month to community service efforts throughout the Charleston area. Other Nonprofit Organizations the RiverDogs have assisted with in the past include Lowcountry Food Bank, Pet Helpers Inc., and Susan G. Komen Race for the Cure.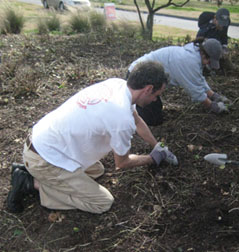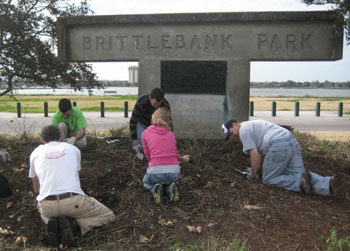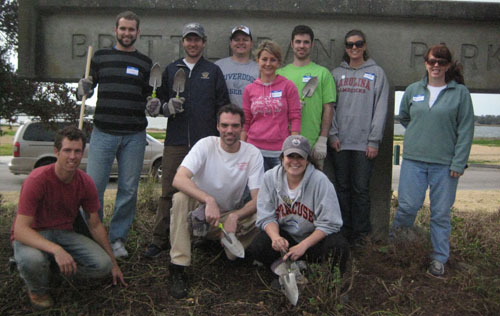 From left to right: Charleston Parks Conservancy Horticulturist Kellen Goodell, Director of Media Relations – Sean Houston, Director of Merchandise – Mike DeAntonio, Sales Manager – Jake Terrell, Director of Promotions – Noel Blaha, Director of Special Events – Melissa McCants Azevedo, Box Office Manager – David Cullins, Sales Rep – Annie Fuller, Director of Community Relations – Lauren Allio and Charleston Parks Conservancy Volunteer Director – Neves Richards