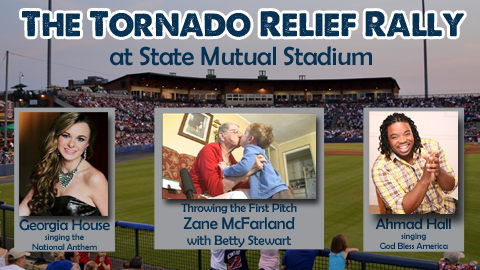 The Rome Braves will be hosting a Tornado Relief Rally on Saturday, August 17 at State Mutual Stadium. Bobby Cox, former Atlanta Braves manager, and Glenn Burns, chief meteorologist at WSB-TV in Atlanta, are scheduled to attend to help raise funds for those affected by the tornado that hit Northwest Georgia on January 30, 2013.
On Wednesday January 30, a strong cold front pushed through the eastern United States and triggered multiple severe thunderstorms. Around 11am in Adairsville, GA, a supercell formed an EF-3 tornado. Gordon and Bartow County were hit heavily. Bartow County sustained damage to 95 structures and in Gordon County at least 268 homes were affected with 30 being completely destroyed. Thousands of trees and many power lines were downed in both counties, with several of those trees falling onto homes. After the storm cleared, 17 people were injured and one person was killed.
On Saturday night, the front concourse will be setup for emergency preparedness. Fans entering the gates can learn how to prepare for a weather emergency and how to build an emergency kit. Also all pre-game activities will involve Bartow and Gordon County residents who were affected by the storm. Zane McFarland and his grandmother Betty Stewart will be throwing out the first pitch, Georgia House will be singing the National Anthem and Ahmad Hall will perform God Bless America. Additional recognition for those who responded to the tornado will be held during the game.
A portion of ticket proceeds will go to the Northwest Georgia Red Cross to continue to support and help those affected by the storm.
This article originally appeared on the official website of the Rome Braves. Click here to view the original story.