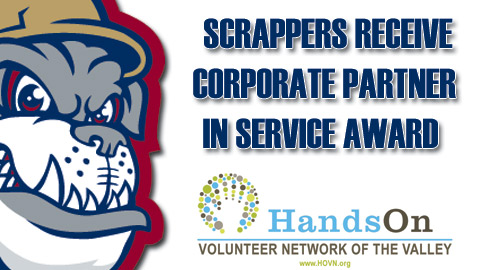 The Mahoning Valley Scrappers have been chosen to receive the HandsOn Volunteer Network Corporate Partner in Service Award. The award recognizes a corporation that has demonstrated a commitment to the Mahoning Valley by promoting corporate responsibility through financial resources and extensions of service opportunities to its employees. The Corporate Partner in Service Award recipient has had measurable impact on local organizations by a commitment to service through corporate engagement programs and the philosophy of giving back to the Mahoning Valley.
Scrappers General Manager Jordan Taylor states, "The Mahoning Valley Scrappers are honored to have been chosen as the 2012 recipient of the HandsOn Volunteer Network Corporate Partner in Service Award. One of the primary goals of the franchise is to play an active role in the community through donations and community involvement of our Front Office".
HandsOn Volunteer Network awards will be presented during the HandsOn Volunteer Network Awards Celebration on Thursday, November 8, 2012 with a dinner and program at the Avalon Golf and Country Club, Squaw Creek, beginning at 5:30pm. Call the HOVN office at 330-782-5877 to make reservations. Tickets are $30 per person.
Season tickets for the 2013 Scrappers season are now on sale. Contact the front office at 330-505-0000 for more information.
This article originally appeared on the official website of the Mahoning Valley Scrappers. Click here to view the original story.