Here is a link to the original story on the team's website.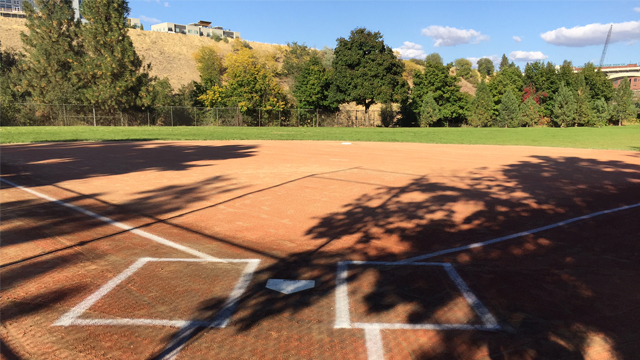 Spokane, WASH. – The off-season for the Spokane Indians Baseball Club remained busy this week as the front office staff was out in full force refurbishing a youth baseball field at Glover Park. In partnership with the KXLY 4 News Extreme Team lead by Mark Peterson , the baseball diamond located at Glover Park was identified as needed help from the community.  This presented an opportunity the Indians couldn't resist.
The KXLY Extreme Team completely refurbished the old Peaceful Valley Community Center which sits adjacent to the park and has now been renamed the Recovery Cafe. While fully mobilized with construction equipment and volunteers, the idea of working on the baseball field at the same time was introduced. With permission from the Spokane Tribe of Indians and recommendation to work with a state historical archaeologist, a plan was established to add top soil and dugouts to the site without disturbing any of the ground.
"We want to promote baseball at all levels and it starts with having a safe place to play," said Indians Senior VP Otto Klein. "Not only is it a beautiful setting, it has deep meaning to the community and our partners at the Spokane Tribe that makes it a perfect project to work on."
Glover Field was renamed in 1917 and dedicated to James N. Glover, a founding father of the city of Spokane. The park is currently one of 87 parks operated by the City of Spokane Parks Department. It also has deep meaning to the Spokane Tribe of Indians as it often served as an encampment for the tribe throughout history. A state tribal archaeologist was on hand during the process to make sure no land or artifacts were disturbed.
"The City of Spokane Parks Department oversees 2,000 acres of developed parkland in the City of Spokane," said Carl Strong, Assistant Director of Park Operations. "This is a historic area and we're proud to see help from the community to make it even better."
Spokane Youth Sports Association (SYSA), which provides sports activities for all youth, will add the field to its spring baseball line-up and start scheduling regular practices and games.
"Adding another youth baseball field in this community is huge for us," said SYSA Executive Director Phil Helean. "We have a shortage of fields compared to other communities our size, so adding one more is a step in the right direction."
The Spokane Indians Baseball Club is the Short Season Class 'A' Affiliate of the Texas Rangers. For more information, please visit SpokaneIndians.com or call (509) 343-OTTO (6886).
This story was not subject to the approval of the National Association of Professional Baseball Leagues or its clubs.