Event Will Take Place at The Diamond on Saturday, April 26th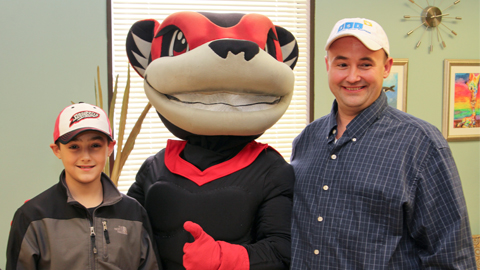 Richmond, Va. – The Richmond Flying Squirrels held a press conference on Thursday to announce a partnership with the ASK Childhood Cancer Foundation that will include the Squirrels hosting the 2014 ASK Fun Walk & 5K presented by Anthem Blue Cross and Blue Shield at The Diamond. The Fun Walk & 5K will take place on the morning of Saturday, April 26th, and will precede the Squirrels' game against the New Britain Rock Cats that evening.
The Fun Walk & 5K, which is the signature event on ASK's fundraising calendar, will include a course that takes runners and walkers around the historic area and end at home plate at The Diamond. The 2013 ASK Walk & 5K attracted 2,500 participants from throughout the Greater Richmond area and raised over $150,000 to help local children with cancer and their families.
"We are continually looking for ways to do more within this community, and this was a huge opportunity to do just that," said Flying Squirrels' Vice President & COO Todd "Parney" Parnell. "Any time you have the chance to work with passionate people to benefit a tremendous cause, you jump at it. That's what we have done here, and we can't wait for April 26th."
The event will begin with check-in and same-day registration at 7 a.m. The 5K Run & Family Fun Walk will begin at 9 a.m. To register in advance of the event or for more information, visit ASKWalk.org.
"We're thrilled to be partnering with the Flying Squirrels on this year's ASK Fun Walk & 5k presented by Anthem Blue Cross and Blue Shield," said ASK Executive Director Amy Godkin. "With their help, we hope to raise over $150,000 to help local children with cancer and their families."
Since 2006, the Fun Walk & 5K has raised more than $890,000, with the goal of reaching the one-million-dollar mark at this year's event.
The Flying Squirrels also used Thursday's press conference as an opportunity to highlight additional upcoming community objectives. As the team prepares for its 5th Season Celebration in 2014 and the launch of the newly-minted Flying Squirrels Charities, they also pointed to numerous successes among their many community programs and events from the past.
"As we prepare for what we know will be a historic fifth season in Richmond, we spent some time reflecting back on all the wonderful opportunities we have had to impact this community," added Parnell. "As we add another tremendous event and partner today, we thought it appropriate to recognize the countless people and organizations that have made our overwhelming success in the past possible."
Additionally, the Squirrels announced plans to unveil the most comprehensive promotional schedule in their franchise history. The schedule will be announced in a series that will begin on Monday with the release of 2014 fireworks dates.
ASK is a local organization dedicated to making life better for children with cancer and their families. ASK provides direct support to young cancer patients and their families today, when they need it most. For more information on ASK, go to ASKWalk.org. For questions regarding the ASK Fun Walk & 5k, please contact Lexi Aman, ASK Development Director, at LAman@ASKCCF.org or (804) 402-2222.
Season ticket and mini-plan packages are currently available for the 5th Season of Flying Squirrels baseball. For more information or to purchase ticket packages, please visit either squirrelsbaseball.com or the Squirrels' ticket office at The Diamond, or call (804) 359-FUNN (3866).
This article originally appeared on the official website of the Richmond Flying Squirrels. Click here to view the original story.