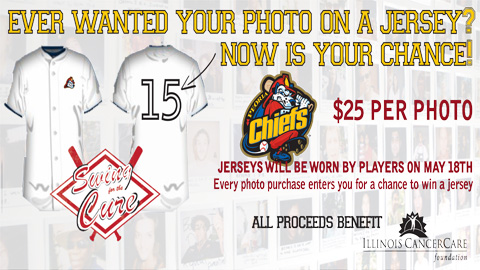 PEORIA, IL – The Peoria Chiefs and the Illinois Cancer Care Foundation are offering fans the opportunity to put their own image on a jersey number for the specialty jerseys the Chiefs will wear during the Swing for the Cure event on Saturday, May 18.
Fans can send in a photo that will be placed on a number on the back of a jersey in one inch by one inch segments. All submitted photos are guaranteed to be on at least one jersey. The cost to submit a photograph is $25 and every person who submits a photo will be entered into a drawing to win one of the jerseys. The maximum order per person is five photographs. The jerseys will be worn on Saturday, May 18 at 6:30 p.m. as the Chiefs host the Clinton LumberKings. All jerseys will be auctioned off during the game and all proceeds will benefit the Illinois CancerCare foundation.
To submit a photo, download the Jersey Form or email ChiefsJerseyPhotos@gmail.com. The deadline for submitting a photo is Friday, April 26. The May 18 game also features a post-game Fireworks show and a Pitch-In For Charity Tennis Ball Toss which will also benefit the Illinois CancerCare Foundation.
Illinois CancerCare, P.C. is a comprehensive practice treating patients with cancer and blood diseases. The focus is to provide state-of-the-art treatments for its patients in the fight against these diseases while staying on the leading edge of breakthrough research and medicines. Illinois CancerCare is central Illinois' largest network of cancer care specialists with 90-120 open clinical cancer research trials being conducted at any given time. Currently Illinois CancerCare has 17 physicians, more than 230 staff members and 13 clinic locations throughout central and western Illinois. For more information call 309-243-3000 or visit illinoiscancercare.com.
The Illinois CancerCare Foundation is committed to supporting research, education and awareness of a disease that affects 1 in 3 people. The Foundation funds clinical research trials, regardless of the level of federal funding available. A goal of the Illinois CancerCare Foundation is to expand the number of patients enrolling in clinical trials in order to discover better treatment and therapy options and ultimately cures for many types of cancer. Funds are also used to help support cancer education, awareness, and patient comfort care through special programs that reach patients in need. For more information visit illinoiscancercare.com.
This article originally appeared on the official website of the Peoria Chiefs. Click here to view the original story.