Sylvan Learning Centers offers unique opportunity for students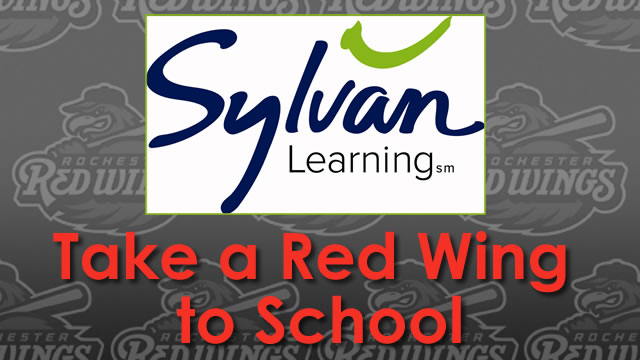 Parents – kids – take a Red Wings player to school, courtesy of Sylvan Learning Centers.
Monroe County students in grades 3-8 are encouraged to write an essay of 100 words or less on why education is important to them. The student with the winning essay will have the opportunity to take a Red Wing to school, on a mutually agreed upon day. The Red Wings player will pick up the student at their home in a limo and take the student to school.
The player will visit the student's school for an hour, talking with classmates and answering questions about his career and the importance of education.
The winning student will also receive a prize package from the Red Wings, courtesy of Sylvan Learning Centers.
Students should send their essays to :
Sylvan Scholars- Take a Red Wing to School contest
Rochester Red Wings
Frontier Field
One Morrie Silver Way
Rochester NY 14608
Click here for a pdf with the official rules and a form you can print out to submit your essay with.
All essays must include student name, age and school, and parent or guardian first and last name, address, email address, and daytime phone number. All essays must be clearly printed or typed. Please call 454-1001 and press zero, Monday through Friday between 9 a.m. and 5 p,m. if you have any questions on submitting, or click here to send an email.
Contest essays must be received by May 30. The Red Wings staff will make the final determination on the winning entry. No purchase necessary. The family of the student selected will be notified on Monday, June 1.
Parents: you can depend on talented tutors at Sylvan Learning Centers in Rochester to deliver the individual attention your child needs to thrive in the classroom and beyond. Like all Sylvan Learning Centers across the country, the Rochester Sylvan Learning Centers aim to ensure measurable academic progress by providing an engaging, collaborative and enjoyable learning environment.
Contact the Rochester Sylvan Learning Centers:
Pittsford – 3300 Monroe Ave. 385-9480
Greece – 1600 W Ridge Rd.   663-6226
Webster – 980 Ridge Rd. 872-1071
Canandaigua – 2510 Rochester Rd. 393-4870
or click here for more information.
This article originally appeared on the official website of the Rochester Red Wings. Click here to view the original story.