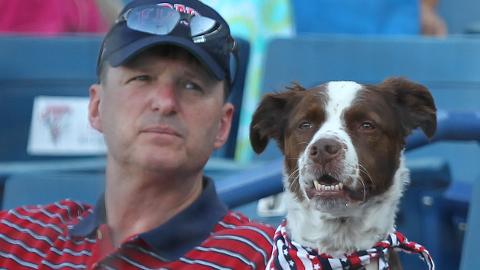 Tampa, Fla. – The Tampa Yankees and the Humane Society of Tampa Bay teamed up for the 7th Annual Bark at the Ballpark held on Saturday, May 18th. The event was sponsored by Fuzzie Buddies and Urgent Pet Care.
Over 125 dogs and their owners enjoyed the pre-game dog fair and then watched the Tampa Yankees win in extra innings against the Clearwater Threshers. Throughout the game, there were raffles every inning in which fans won prize packs with various types of goodies for their dogs. Tampa Bay area pet vendors were at the event promoting their local canine friendly business and to show their support of the Humane Society.
Each dog to enter the stadium was required to have a "dog" ticket. This year was the first time the Tampa Yankees held a silent auction for the canine theme game worn jerseys the players and coaches were wearing. In total, the "dog" tickets, vendor donations, and jersey auctions raised over $2,800 for the Humane Society of Tampa Bay, which is the largest donation the T-Yanks have been able to make over the past seven seasons.
The Tampa Yankees are the Single-A Advanced affiliate of the New York Yankees. For more information call (813) 673-3055 or visit www.tybaseball.com.
This article originally appeared on the official website of the Tampa Yankees1. Click here to view the original story.