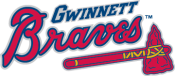 The Gwinnett Braves announced today that the Latin American Association (LAA) is the recipient of the Gwinnett Braves August grant. The $1,000 grant was used to buy supplies for the LAA's second annual Back to School Supplies Drive.
Fully staffed by volunteers led by LAA's Director of the Youth and Volunteer Program, the Back to School Supplies Drive was held at LAA's main building prior to school opening. The event was attended by nearly one thousand children who, accompanied by a parent, exchanged free tickets given to them at the entrance for free school supplies that included backpacks, notebooks, folders, crayons, pencils and pens.
"Words cannot express the immense gratitude the LAA family feels towards the Gwinnett Braves," said Millie Irizarry, Chief Executive Officer of the Latin American Association, upon notification of this award. "While their sportsmanship continues to motivate our children, the Gwinnett Braves have also chosen to support one of our very dear events. Thanks to their contribution, the LAA's supply drive provided nearly one thousand children with much needed essentials for school work. The Gwinnett Braves have helped us send these children and their families another message of hope which will be unforgettable to them and also to us."
The G-Braves will honor the LAA in an in-game presentation on Sunday, August 29th when the team takes on the Norfolk Tides at 2:05 p.m. Volunteers, staff and families served by LAA will also be in attendance and are invited to a pregame Q&A with a G-Braves player.
Organizations interested in applying for a Gwinnett Braves grant can visit the Community page on gwinnettbraves.com for more information.
About the Latin American Association
The Latin American Association's (LAA) mission is to help Latino families achieve their aspirations for academic, social and economic advancement. They accomplish this through direct programs and integrated community partnerships that focus on youth academic achievement, education and prevention, and services to families with urgent needs. Last year alone, over 60,000 individuals and their families sought assistance from the LAA. For more information on the LAA visit thelaa.org.