Here is a link to the original story on the team's website.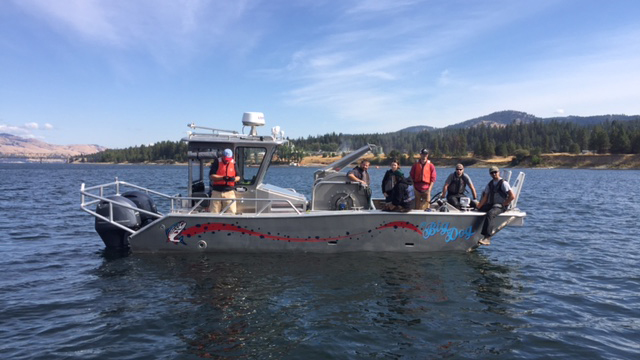 Spokane, WASH. – Not even the offseason can stop the Spokane Indians historic Redband Rally Campaign.  Last month, the Spokane Indians Baseball front office staff spent the day on Lake Roosevelt and its tributaries with biologists from the Spokane Tribal Fisheries Department to learn more about protecting the native Redband Trout.
Four fisheries research vessels, including the newest boat to the fleet called the "Big Dawg" which features the Indians baseball historic Redband logo, spent the day up and down the river gill netting and electrofishing invasive Northern Pike. Northern Pike, the primary threat to Redband Trout, were illegally introduced into the watershed years ago and have proven destructive to the ecosystem. Additionally, Indians staff participated in their long term Sturgeon Research Project (since 1995) and Water Quality Monitoring Project.
"Anytime we can assist in protecting the Redband, we have interest," said Indians Senior VP Otto Klein. "Not only do we owe it to our partners on this project, but also to the general health of all species in the river."
2017 was the inaugural season of the Spokane Indians Redband Rally Campaign presented by the City of Spokane.  In addition to a new alternate brand and team mascot, the campaign raises money for the native Redband Trout habitat while highlighting the City's efforts to clean the Spokane River.
Citizens can help protect the Redband Trout and the rest of the native inhabitants of the Spokane River by donating to the Redband Rally Fund. The fund, which is administered by the Inland Northwest Community Foundation, raises money for local organizations to conserve and protect the Spokane River and its native Redband Trout.
Click here to donate to the Redband Rally Fund
To help promote the Redband Rally Campaign throughout the 2017 season, the Spokane Indians Baseball Club unveiled a new mascot at Avista Stadium named "Ribby the Redband Trout" and distributed free Redband Headbands for fans to wear during the game. Along with Ribby, Indians players wore special Redband Jerseys for six games throughout season. While the Redband Jerseys were available through an online auction during the month of September, there are multiple new Redband merchandise items currently for sale at the Spokane Indians Team Store. $5 from each piece of Redband merchandise sold will be donated to the Redband Rally Campaign.
Click here to look at the Redband Merchandise at the Spokane Indians Team Store
The Spokane Indians Baseball Club is the Short Season Class 'A' Affiliate of the Texas Rangers. For more information, please visit SpokaneIndians.com or call (509) 343-OTTO (6886).
This story was not subject to the approval of the National Association of Professional Baseball Leagues or its clubs.