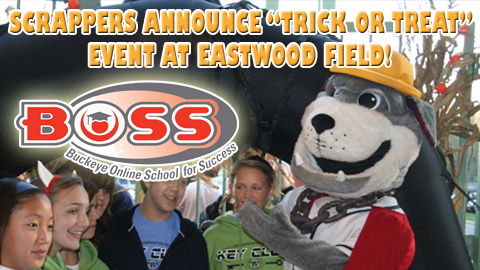 The Scrappers and Buckeye Online School for Success present the thirteenth annual "Trick or Treat" at Eastwood Field, with media partners 21 WFMJ, WBCB, and Mix 98.9. The event will take place Thursday, October 27th from 6:00pm to 8:00pm. "Trick or Treat" at Eastwood Field is a fun and safe way to celebrate Halloween for children age 12 and under. Ticket quantities are limited and are available on a first come first served basis. Children and adults will require a ticket. Tickets are just $1 each and are available now at the Scrappers Team Office located at Eastwood Field.
The Scrappers are looking for area businesses to participate in this year's "Trick or Treat" event. Companies that are involved will receive a free table and banner space on our concourse. The participating businesses may pass out information and decorate their table however they choose. We are allowing distribution of items and flyers, however we ask that no registration sign-ups or contests be held. You are welcome to invite employees from your company to represent your business. If this is not possible, volunteers are available that can assist you. In addition to your materials, we ask that your company provide candy for an estimated 2,000 children. This is a community event and a great way to promote your business to the public. Please contact Heather Sahli at the Scrappers office by Friday, October 21st if interested. Space is limited and is available to the first 30 companies who reply.
For further information, contact the Scrappers team office at 330-505-0000.
This article originally appeared on the official website of the Mahoning Valley Scrappers. Click here to view the original story.