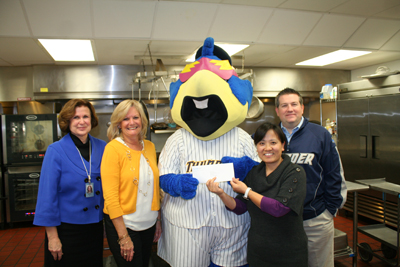 The Trenton Thunder, the Double-A affiliate of the New York Yankees, scored 298 runs on their way to 31 victories at ARM & HAMMER Park this season, but the real winner this season was the Trenton Area Soup Kitchen (TASK) thanks to NJM Insurance Group and their Safe at Home program.
As part of the Safe at Home program, NJM made a $14,900 donation, based on $50 per run scored at ARM & HAMMER Park, to TASK. With this season's donation, NJM's Safe at Home program has donated more than $45,000 to local non-profits over the last three years.

"Thanks to the hard work of the Thunder offense this season and NJM Insurance, the Trenton Area Soup Kitchen can continue their mission of feeding those that are hungry and offer programs that encourage self sufficiency and improve the quality of life of their patrons," said Thunder Director of Community Relations T.J. Jahn. "This program is precisely the type of program that the Trenton Thunder strive to promote; one that includes a great corporate partner, NJM, and enriches our community and its residents."
"In their 21 seasons in Trenton, the Thunder have truly become an institution," said NJM Corporate Communications Administrator Eric Stenson. "We share the Thunder's commitment for our capital city. The Safe at Home program provides NJM a wonderful opportunity to benefit an institution like TASK, which makes such a big difference in the lives of so many people in our community."
The 2015 season, the 22nd in franchise history, will begin on April 9 at Erie with the home opener scheduled for April 16 against the Portland Sea Dogs. Season tickets and group outings are on sale now by calling 609-394-3300. For the full schedule and more team information, please visit trentonthunder.com.
This article originally appeared on the official website of the Trenton Thunder. Click here to view the original story.