Here is a link to the original story on the team's website.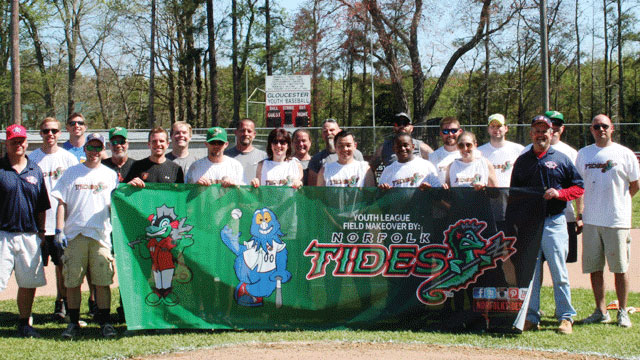 After nearly 7,500 votes were cast on the Norfolk Tides Facebook page, Surry County Pony Baseball has won a contest in which the Tides organization will renovate their baseball field. This field makeover will include an upgrade to the playing surface and an improvement to existing dugouts, with the renovations taking place in mid-April.
Surry County Pony Baseball received nearly 2,000 votes to win the contest, which consisted of nine local youth fields. Tides groundskeepers and front office staff will visit Surry to assist in renovating their field.
"We're thrilled to offer our assistance to the people of Surry, as they demonstrated a remarkable amount of support for this contest" said Tides General Manager Joe Gregory. "The number of votes cast shows how important youth baseball is to families in the Surry community, and our entire organization can't wait to get started."
2017 is the sixth consecutive year in which the Tides are renovating a field in Hampton Roads. Over the first five years of the program, the Tides have renovated eight local fields: Ocean View Little League (Norfolk), Smithfield Recreation Association (Smithfield), Bennett's Creek Little League (Suffolk), Phoebus Little League (Hampton), Shore Little League (Nassawadox), Cradock Little League (Portsmouth), Little Creek National (Norfolk) and Gloucester Youth Baseball (Gloucester).
The project is made possible thanks to the Tides Youth Baseball Fund, a program established by the Tides in 1990 as a way to raise money for youth baseball and softball programs in Hampton Roads. In addition to assisting with field renovations, the Youth Baseball Fund also helps local teams and leagues with travel expenses. The Youth Baseball Fund is partially financed by scoreboard announcements at Harbor Park throughout the season, and those wishing to make a donation directly to the Youth Baseball Fund can do so via norfolkides.com under the "community" section.
Volunteers from Safelite AutoGlass will join the Tides staff in assisting with the field renovation efforts, with the exact date of the renovation being announced at a later date.
The Tides will play their first game of 2017 at Harbor Park on Friday, March 31st in an Exhibition Game against the Baltimore Orioles. Norfolk will then open its regular season on Thursday, April 6th with a 7:05 contest at Charlotte before kicking off the home portion of its schedule on Monday, April 10th with a 6:35 game vs. Gwinnett.
Season Tickets, group tickets, picnics and patios are currently available for the 2017 season. For pricing and additional information, visit the Harbor Park box office or call (757) 622-2222.
This story was not subject to the approval of the National Association of Professional Baseball Leagues or its clubs.