Here is a link to the original story on the team's website.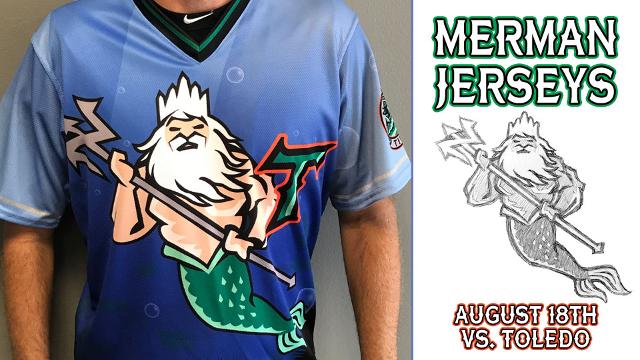 The Norfolk Tides today announced that the team will be wearing specialty Norfolk Merman jerseys during their game on Friday, August 18th. The jerseys will be worn by the Tides during that night's game with the Toledo Mud Hens and will then be auctioned off for charity after the game.
When the Tides changed primary logos prior to the 2016 season, the club had several different options that made it into the final stages of the review process. One of those logos was a Merman yielding a trident, the logo featured on the upcoming specialty jersey.
"When we underwent the logo change process, we had several exciting potential designs to choose from" said Tides General Manager Joe Gregory. "Some were simple, clean and traditional, while others – like this Merman logo – were fun and unconventional. We thought it would be a fun idea to showcase what one logo would have looked like if we had gone in that direction."
During the August 18th game, the Tides will hold a silent auction for the jerseys on the Harbor Park concourse, with proceeds going to charity. Winning fans will then get the jerseys directly off the players' backs following the game.
This story was not subject to the approval of the National Association of Professional Baseball Leagues or its clubs.