Ballpark concourse open to public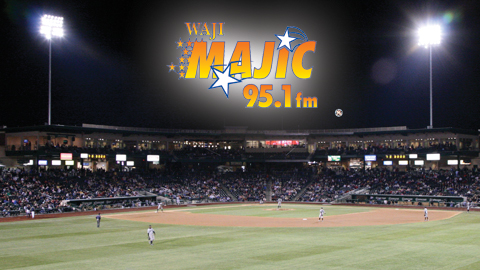 FORT WAYNE, Ind. – The Fort Wayne TinCaps have partnered with Majic 95.1 to encourage downtown workers and visitors to "Conquer the Concourse" at Parkview Field this summer. In conjunction with the opening of the ballpark's Field of Greens cart for summer lunches, the TinCaps and Majic 95.1 are encouraging those visiting the ballpark to join in the challenge to see how many laps they walk between Memorial Day and Labor Day.Walkers and runners are encouraged to stop by the Field of Greens cart between 11:00 a.m. and 1:00 p.m. to fill out a "Conquer the Concourse" registration form. Throughout the summer the number of laps walked during each visit to Parkview Field can be recorded on their registration form which will be available each weekday at the Field of Greens cart (11:00 a.m. to 1:00 p.m.). Those walking at other times of the day are encouraged to keep track of their laps and periodically update their lap totals throughout the summer.
"We're excited to partner with Majic to bring attention to the availability of Parkview Field as a walking and running option downtown," TinCaps Vice President of Marketing Michael Limmer said. "The concourse measures exactly one third of a mile, so it's easy to be able to figure out the distance you've covered. We will have upwards of two hundred people walking or running throughout the day. It's great to have that kind of energy in the ballpark and that level of usage. It's what we envisioned an 'open to the public' ballpark being able to bring to downtown Fort Wayne beyond just baseball."
"Several of us at the radio station were already taking advantage of the ballpark during lunch time to run," said Barb Richards of Majic 95.1. "We got together with the folks at Parkview Field and figured out a way to create a bit of an incentive to get people moving during the summer. It's a great venue, why not encourage people downtown to enjoy it?"
Throughout the summer Majic 95.1 will acknowledge random participants with prizes. There is no cost to be a part of the program and there is no prize for whoever walks the most laps. "Exercise is it's own reward," Limmer said with a smile. "We're trying to encourage people to be healthy and to be aware that Parkview Field can be a resource to exercise in a safe, controlled environment. The fact we're able to throw in a few incentives from time to time is a bonus to those that conquer the concourse."
The Field of Greens cart, open 11:00am to 1:00pm, Memorial Day through Labor Day, has health-conscious menu items including salads, wraps, and sandwiches as well as chips and drink options.
This article originally appeared on the official website of the Fort Wayne TinCaps. Click here to view the original story.