Award Given for Accessibility and Employment of Individuals with Disabilities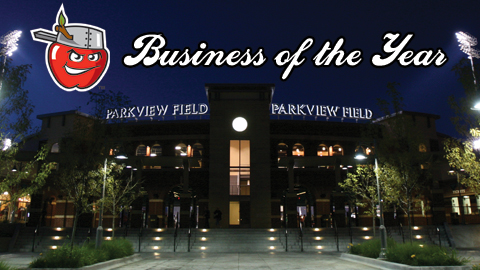 FORT WAYNE, Ind. – The Fort Wayne TinCaps and Hardball Capital were presented with the Above and Beyond Business of the Year Award by the Northeast Indiana Disability Advocacy Coalition (NEIDAC). The award is given to an organization for accessibility and employment of individuals with disabilities. Several members of the TinCaps staff were on hand to accept the award at the Abilities Abound Awards Reception at the Holiday Inn on Coliseum Boulevard in Fort Wayne.
"We are honored and thrilled to be the recipient of this year's award," said TinCaps team President Mike Nutter. "Providing equal access and opportunity for individuals with disabilities and being in full compliance with the Americans with Disabilities (ADA) Act is a top priority for our team. We're proud, along with the City of Fort Wayne and Hardball Capital, to have such a great facility like Parkview Field to be able to do all of those things."
NEIDAC presented the TinCaps with a banner, which will be displayed at Parkview Field.
Opening Night is Thursday, April 5 with first pitch at 7:05pm. Opening Night features post-game fireworks and is a Thirsty Thursday with $1.00 beer specials. Visit TinCaps.com or call (260) 482-6400 for more information.
Fort Wayne TinCaps baseball… It's All About You!
This article originally appeared on the official website of the Fort Wayne TinCaps. Click here to view the original story.