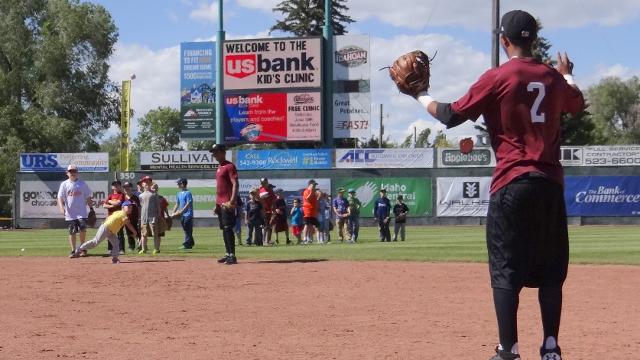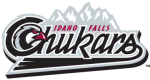 It was a beautiful day as over 100 kids took Melaleuca Field by storm to learn from their favorite Chukars players and coaches Saturday afternoon. Four stations were set up around the field including pitching, hitting, outfield, and infield.
Brandon Thomas was one of a handful of pitchers that ran the pitching station over by the home bullpen.
"Right now we're trying to teach them about releasing the ball out front and hand separation. There's a drill called 10 toes which works on separating your hands. Another one is where you spread your legs out a little bit more and it forces you to get on your front side, and other than that we're working on long toss," Thomas said. "Each one is unique in their own way and it's cool to see them throw and just have fun."
At the outfield station, Jerrell Allen helped work with the kids on pop fly balls and grounders.
"We're trying to teach them how to read the wind when a pop fly comes, stay ahead of a ground ball, and keeping your glove on the ground to come up with the ball and throw it in," Allen said. "Basically we want them to learn what we learned coming up and give back to them."
Shortstop Corey Toups paired up with teammates to show the kids some infield drills like fielding ground balls and throwing to second.
"We have the kids set up at the shortstop position at normal depth taking slow ground balls. We're teaching them about having a good center of gravity and a good base to make a strong throw over to first base," Toups said. "Secondly, we have them taking grounders at double-play depth and doing a short toss to second. Most of them understand it and say they are infielders so it's pretty easy."
Alexis Rivera was one of several players running the hitting station. It was his second year helping with the clinic and he said he enjoys it.
"There's a lot more kids this year. We started off the hitting station with five swings each but had to cut it down because there were so many kids," Rivera said. "But it's fun to have so many kids out here, teach them, and help future baseball players. We learn so many things and it's fun to give back and teach the kids about the basics of baseball: fielding, pitching, and hitting."
That was the consensus among the players who all said they enjoyed their time working with the kids.
"I went to camps like this when I was little. It's so much fun to be here and be able to do that as a professional," Toups said.
Allen said teaching was hard but he loved the Kid's Clinic.
"(Teaching) is pretty hard but I've actually seen a decent amount of athletes out here," Allen said. "You want to go out there with the guys and it makes you want to be a kid again. I love doing this kind of stuff."
This article originally appeared on the official website of the Idaho Falls Chukars. Click here to view the original story.