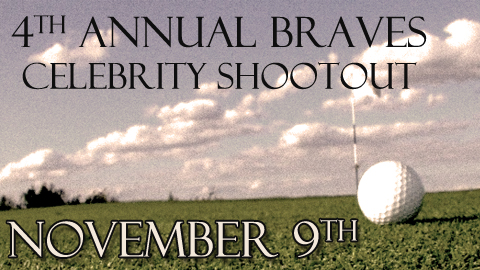 The Rome Braves and Floyd County Police Department announced today the date for the 4th Annual Braves Celebrity Shootout to benefit the Wounded Warrior Project. The day will consist of registration and driving range at 9:30am, a shotgun start at 11am, followed by an awards reception after the tournament. Food and drinks will be provided. The golf tournament will be held on Friday November 9 at Stonebridge Golf Club in Rome. Teams or individuals can register at the Floyd County Police Station or at the ticket office located at State Mutual Stadium, home of the Rome Braves. Hole and team sponorships are available as well.
Celebrity participants include members of the Atlanta Braves coaching staff as well as minor league field staff. Past participants have included current Atlanta Braves third base coach, Brian Snitker, former Rome Braves manager and current Gulf Coast Braves manager Rocket Wheeler, current Rome Manager Randy Ingle, and former Rome Braves players.

The Wounded Warrior Project is an organization dedicated to raising awareness and enlisting the public's aid for the needs of injured service members; to helping injured service members aid and assist each other; and providing unique, direct programs and services to meet the needs of injured service members.
For more information, please contact the Rome Braves at (706)369-9388 or Gary Conway at the Floyd County Police department (706)235-7766.
Click here to download a registration form now!
This article originally appeared on the official website of the Rome Braves. Click here to view the original story.