Here is a link to the original story on the team's website.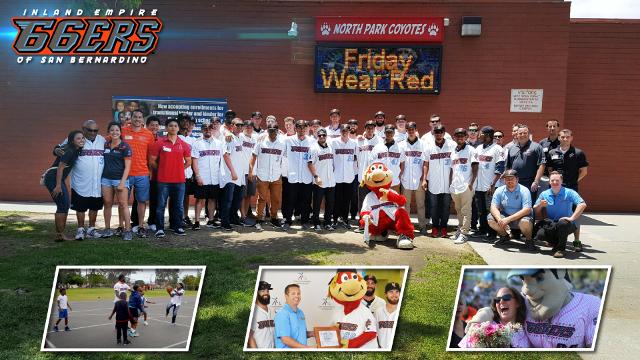 SAN BERNARDINO – The Inland Empire 66ers organization released their annual Community Benefit Report for the 2017 Fiscal Year. The report divulges how close to $300,000 was invested to the Inland Empire community along with several community oriented programs implemented by the 66ers Front Office staff.
Over 100 area organizations and non-profit organizations were able to raise $152,944 through 66ers fundraising programming and events plus 50 area organizations received monetary aid in the amount of $32,702. In-kind donations, such as game tickets, gift baskets and autographed memorabilia were proudly donated to over 200 local organizations to the tune of $113,946.
"We believe that to have the benefit of our community supporting us we must be involved back, creating a true partnership. This has never been more evident than during the 2017 season when our community made us number one in California League attendance for the first time in 27 years," said Joe Hudson, General Manager. "The 66ers also believe that being part of the community outside of the ballpark is important and showcased it with 66ers Front Office members being active in over twenty local organizations."
In addition to monetary donations given to numerous organizations, the 66ers Front Office spent several hundred hours volunteering their time in the community. Programs like "Breakfast and a Book" where 66ers staff members provide breakfast to local students who excelled over the month and read them a couple stories while they ate were extremely successful and will be expanded for the following year. During the off-season the Front Office selected one community organization a month to volunteer their time. A few of these organizations included Santa Claus, Inc., Community Action Partnership of San Bernardino County, Central Little League diamond clean up and the 66ers took staff and players to North Park Elementary for a kickball game after the tragedy at their school.
"We're more than grateful to give monetary donations, but sometimes it's more impactful to offer a helping hand," said Stephanie O'Quinn, Community Groups Manager. "It's not only rewarding to the community but for us as an organization."
In addition to the Breakfast and a Book program, other annual events include: the annual 66ers Golf Tournament which raised over $4,000 for Loma Linda University Children's Hospital, Walk for the Animals hosted by the Humane Society of San Bernardino Valley that netted over $14,000 for their event at San Manuel Stadium, and The Pink Ribbon Place jersey auction that raised over $3,400 from jersey sales and ticket fundraiser.
The Inland Empire 66ers of San Bernardino baseball team are the Class-A Advanced affiliate of the Los Angeles Angels serving the Inland Empire community with family friendly entertainment. The 2018 season begins on Thursday, April 5th against the San Jose Giants at San Manuel Stadium. For more information about season ticket memberships or group outings, please contact the 66ers at www.66ers.com or call 909-888-9922.
This story was not subject to the approval of the National Association of Professional Baseball Leagues or its clubs.