Two very popular events for the Stockton Ports were recently held at Banner Island Ballpark. Root Beer Float Day was held on Sunday, July 10.  Not only did fans get to cool down with "bottomless" root beer floats on a hot day, but the proceeds from the event went towards the Ports Anchor Fund, which in turn helps local youth centers and youth sports.
The event was sponsored by Metro PCS and all of the root beer and ice cream was generously donated by Sunnyside Farms and Super Store Industries. Metro PCS also donated all of the mugs used for the event.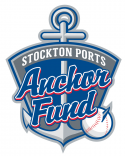 Root Beer Float Day also gives fans the opportunity to interact with their favorite Ports players. Ports pitchers Scott Deal, Mike Hart, Josh Lansford, and Rob Gilliam helped out with the event by scooping ice cream and pouring root beer for eager fans. Alongside the players, the Ports had help form radio DJ Lucas from KWIN, Dinger from the Sacramento River Cats, several Sunnyside Farms employees, and of course Splash got in on the fun as well.
The Ports were also host to two sessions of a youth baseball camp. Youth camp serves a number of purposes. First, all proceeds from the camp go to the Ports Anchor Fund. Camp also gives kids, boys and girls alike, ages 5-13 the chance to learn from the pros. Campers are able to get up close and personal with the Ports players and coaches. Youth camp is all about a fun experience for the kids, but it is also organized each year to teach young kids the fundamentals of baseball. Kids look up to the Ports players, so they always enjoy learning a few new skills from them.
Session one of baseball camp was held on June 17 & 18 and session two on July 16 & 17, both from 9 AM to 2 PM. Campers started the day with a warm-up with Ports Strength and Conditioning coach Chris Borgard. After the warm-up, the kids were broken up in to six different groups, according to age. Each station was staffed with a Ports player and the kids were taught a different skill at each one. Ports Manager Webster Garrison & Pitching Coach Craig Lefferts roamed through out each station to ensure the camp ran smoothly.
Campers learned all about outfield throwing, base running, hitting, in field throwing, and pitching. The campers also got a special treat with a visit to the clubhouse. A favorite of camp was the end-of-the-day game that they played with the Ports players. The group was divided into four different teams. Two teams in left field, two in right. Each camper had a chance at bat as well as in the outfield.
Joining Webster Garrison, Craig Lefferts and Chris Borgard was Ports Hitting Coach Brian McArn. Position players Connor Crumbliss, Leonardo Gil, Ryan Lipkin, Anthony Aliotti, Michael Choice, Rashun Dixon, and pitchers Jose Guzman, AJ Huttenlocker, Connor Hoehn, Scott Deal, and Murphy Smith all helped out.
Not only did the campers receive detailed instruction and advice from the players, they were also given a camp T-shirt, were entered in a raffle to win prizes, were given a free Ports ticket, took part in our Jr. Ports program, and were provided lunch each day of camp by Subway and Pizza Guys.
If you would like any information on any of these events, or would like to donate to the Anchor Fund, please contact Community Relations Manager Margaret Sacchet at (209) 644-1900 or msacchet@stocktonports.com.