A portion of every amusement ride at Modern Woodmen Park this season will be donated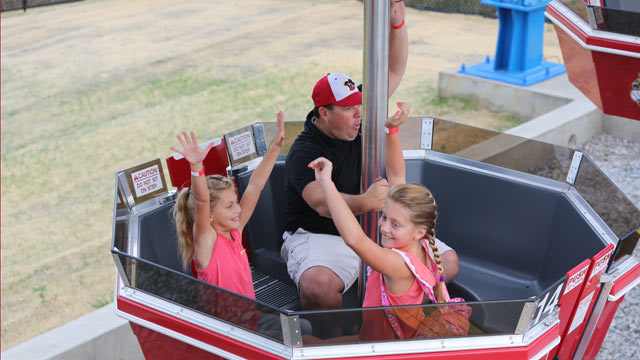 The Quad Cities River Bandits and Main Street Amusements are pledging at least a $50,000 donation this year to the Genesis Health Services Foundation, benefiting Camp Genesis, Genesis Neonatal Intensive Care Unit and Genesis Flu-Free Quad Cities. Dave Heller, owner of the River Bandits, and Ken Croken, Genesis Health System Vice President, Corporate Communications, Marketing and Advocacy, made the announcement at press conference Wednesday at Modern Woodmen Park.
For each ride of

the new amusements at Modern Woodmen Park – including the 105-foot Ferris wheel, the expanded 300-foot zip line, Space Camp and the Mediacom Drop'N Twist, 50 cents will be donated to Genesis Health Services Foundation health initiatives for children. Since the Ferris wheel opened May 24, approximately 30,000 people have taken rides, but the River Bandits ownership will personally make up the difference for a total donation of at least $50,000.

"The amusements at Modern Woodmen Park have brought great joy to thousands of families in the Quad Cities region this summer, and we are blessed to be able to use these rides to help some of the less fortunate families in our community," said River Bandits owner Dave Heller. "We are thrilled to be able to partner with the Genesis Health Services Foundation to ensure that affordable, family-friendly fun at Modern Woodmen Park makes a lasting impact for families across the region."
The donations will go toward the Flu-Free Quad Cities campaign, Camp Genesis for kids who have someone close to them with cancer and Genesis Neonatal Intensive Care services to help struggling newborn babies.
"The Ferris wheel is one of the best new additions to the Quad Cities skyline in years. The best ballpark in baseball is now even better, attracting visitors from all over the country. And now, every time they take a ride on the Ferris wheel or the Drop and Twist ride, they are supporting children's health programs in the region," said Ken Croken, vice president of corporate communications, Genesis Health System. "Dave Heller and the Quad Cities River Bandits are a great partner of Genesis Health System and I want to applaud the generosity and Quad City values behind their support."
The 105-foot Ferris wheel, Mediacom Drop'N Twist, Space Camp, and 300-foot zip line are open during all River Bandits home games, normally beginning 90 minutes before the scheduled first pitch. The rides are also open every Saturday morning – weather permitting – from 9 a.m. to 1 p.m., as well as weekend non-game days: Fridays 7 p.m. to 10 p.m., Saturdays and 7 p.m. to 10 p.m., and Sundays 1 p.m. to 5 p.m.
Fans may purchase special tickets that can be redeemed at amusement areas, including the Ferris wheel and Bounce QC Kids Zone. Tickets are sold at $1 each, 5 for $5, 12 for $10, and 20 for $15. No tickets are required for children three years and under. An all-you-can-ride-and-bounce daily pass is $20, and a season pass for unlimited rides and play in the Bounce QC Kids Zone for $49. Purchases can be made at the amusement areas of Modern Woodmen Park.
This article originally appeared on the official website of the Quad Cities River Bandits. Click here to view the original story.