Deadline April 23 to submit signatures; pink jersey auction proceeds will go to Genesis Center for Breast Health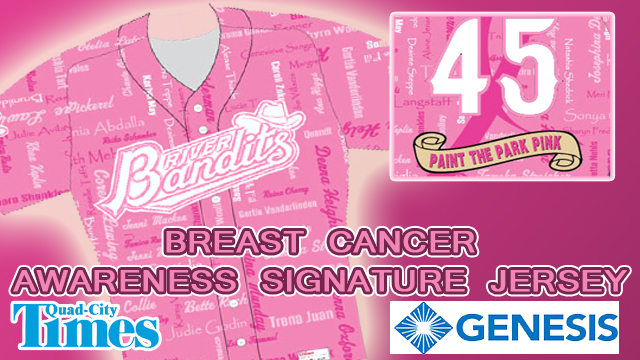 Quad Cities River Bandits fans were the first in the country to be able to purchase photos on the back of player jerseys for professional sports jersey auction for charity, and this season they will have another unique opportunity to support a cause while honoring loved ones. Through April 23, fans can purchase space for a signature or name to appear on pink jerseys the team will wear for its first-ever pink jersey auction on Breast Cancer Awareness Night presented by Genesis Health Systems and the Quad-City Times on Friday, June 13.
"The entire region has made River Bandits jersey auctions hugely successful events to benefit Quad Cities-area charities, and this summer's Breast Cancer Awareness Night and jersey auction is another fantastic opportunity for Quad Citians to make a big impact right here in our community," said team owner Dave Heller. "With the support of our great fans, the pink jerseys will be a memorable tribute to all the women and their families who have bravely battled breast cancer, as well as a strong sign of unwavering support for those who continue to battle breast cancer."
Fans can purchase space for the signature or name of a loved one who is battling or has battled breast cancer. The signatures and names will be placed on the River Bandits players' pink jerseys that will be worn Friday, June 13, for Breast Cancer Awareness Night presented by Genesis Health Systems and the Quad-City Times. After the game, the jerseys will be auctioned off, with all the proceeds benefitting the Genesis Center for Breast Health. Each signature or name space is available for purchase at $25 each, with every single dollar raised going to the Genesis Center for Breast Health. More information is available by calling Alexandria Sheffler at (563) 333-2741. The deadline to purchase the signature spaces is April 23.
"We are grateful to the Quad Cities community that makes all of these local charity events possible, and we are thrilled to partner with Genesis Health Systems and the Quad-City Times for Breast Cancer Awareness Night," said General Manager Andrew Chesser. "The pink jersey auction will benefit a great cause and raise awareness for women and their families whom we are humbled to support with this night at Modern Woodmen Park."
This year will also mark the fourth annual Camo Jersey Auction presented by the Iowa Army National Guard on May 24, as well as the third annual photo jersey auction Friday, Aug. 8, on Autism Awareness Night presented by KWQC and the Quad Cities Autism Center. The River Bandits were the first U.S. professional sports team to auction photo jerseys for local cancer charities in 2012, and the 2013 Autism Awareness Photo Jersey Auction earned a Golden Bobblehead Award from Minor League Baseball for the Best Charity Promotion in the nation.
UP NEXT: The second annual River Bandits Race to Home 5K and Kids Fun Run presented by Palmer Chiropractic Clinics is Saturday at 8 a.m. Thursday is the last day to register using the link at www.riverbandits.com. All proceeds benefit the Bandit Scholars Program. To order any of the 2014 ticket plans – with new lower prices – call the River Bandits box office at 563-324-3000. Season ticket and mini-plan packages start at just seven games and begin at less than $40. Call a River Bandits account representative today to choose your seats and get the details of our various mini-plan packages.
ABOUT THE BANDITS: Having just been named Ballpark Digest's winner of Best Ballpark Improvement in America under $1 million, the River Bandits ownership is making one of the biggest improvements to Modern Woodmen Park since the ballpark was first built back in 1931! A new Ferris wheel, standing 110 feet over the playing field, is opening in May, along with a carousel, a new ride called a "Drop and Twist," an expanded 300-foot long zip line, and many other new games and attractions. In 2013, the team unveiled a new 220-foot long dual zip line, a rock climbing wall, and a number of new bounce houses. The team's major league affiliate, the Houston Astros, just saw all six of its affiliates reach the playoffs – the first time in a decade any MLB team can claim such success. The River Bandits were one of three affiliates to reach the championship round and one of two to win their league championship.
This article originally appeared on the official website of the Quad Cities River Bandits. Click here to view the original story.