Here is a link to the original story on the team's website.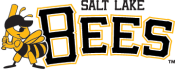 SALT LAKE CITY (May 19, 2018) -Despite hitting three home runs on "Pack the Park Pink" night, the Salt Lake Bees were defeated 11-7 by the Sacramento River Cats Saturday night at Smith's Ballpark.
Salt Lake honored and recognized those who have been affected by cancer by wearing pink uniforms with the name of a person who has been impacted by the disease on the back. The Bees also raised money with pink t-shirt sales and combined with Swing For Life the Bees raided $26,523 for the Huntsman Cancer Research Institute to fund their fight to find a cure.
Rymer Liriano, Kaleb Cowart and Wade Wass all blasted home runs for the Bees. Wass' homer was his first Triple-A hit of his career as he made his debut at that level Saturday night. Cowart finished 4-for-5 with three RBIs in the losing effort. David Fletcher saw his consecutive on-base streak end at 30 games with an 0-for-4 night. Jose Miguel Fernandez extended his on-base streak to 27 games by going 1-for-3 with a double and a base on balls. Bees starter Ivan Pineyro went four innings, giving up five runs. Reliver Greg Belton (0-2) got tagged with the loss after giving up three runs in the sixth to give Sacramento the lead. The Bees would chip away and cut the deficit to 9-7 in the eighth inning, but Sacramento scored two insurance runs in the ninth to put the game away.
The Bees are back to playing Sunday at 1:05 at Smith's Ballpark for the final game of the four-game series. The club will be hosting "Brunch in the Ballpark" where $25 will get fans admission to the game and a delicious brunch served in one of the stadium's food patios. Tickets are available at slbees.com.
This story was not subject to the approval of the National Association of Professional Baseball Leagues or its clubs.