Here is a link to the original story on the team's website.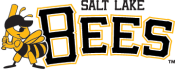 SALT LAKE CITY (May 1, 2018) – To raise money for Huntsman Cancer Foundation (HCF), the Salt Lake Bees are offering a one-of-a-kind VIP jersey package for the team's 12th annual "Pack the Park Pink Night" at Smith's Ballpark on Saturday, May 19.
The VIP package includes a pink jersey that will be worn on field by Bees players or coaches. The name on the back of the jersey will be chosen by donors to honor loved ones that have battled cancer. Last year the Bees suited up with names like 'Carl', 'Donna Joy' and 'BEE' on the back. Infielder Nolan Fontana hit a walk-off inside-the-park home run while playing for Caroline.
Also included in the VIP package are two on-field passes to watch batting practice before the game, 10 tickets to the game that night, and the opportunity to take their own batting practice on Saturday, June 16.
The package is available for a minimum donation of $400 to Huntsman Cancer Foundation. Donations are available at www.thehuntsman.org/packthepark. All proceeds go directly to HCF with last year's event raising $33,900 for cancer research.
The Bees are in the middle of an eight-game homestand against the Fresno Grizzlies and Las Vegas 51s. Tickets are available at www.slbees.com.
–slbees.com–
About the Salt Lake Bees
The Salt Lake Bees are entering their 18th season as the Triple-A affiliate of the Los Angeles Angels and will continue to be the top affiliate of the Angels through the 2020 season. While with Los Angeles, Salt Lake owns five division championships and two trips to the Pacific Coast League Finals. Smith's Ballpark, the home of the Bees, is consistently voted as one of the best ballparks in baseball, including a Top 10 Ballpark in the United States by Better Homes and Gardens. In 2015 the Bees were awarded the Bob Freitas Award by Baseball America as the top franchise in Triple-A. For more information visit www.slbees.com.
About Huntsman Cancer Foundation
Huntsman Cancer Foundation's sole purpose is to raise funds to support the mission of Huntsman Cancer Institute (HCI), which is to understand cancer from its beginnings, to use that knowledge in the creation and improvement of cancer treatments, to relieve the suffering of cancer patients, and to provide education about cancer risk, prevention, and care. All HCI fundraising initiatives happen through Huntsman Cancer Foundation, which is a public, fully integrated, Type 3 501 (c)(3).