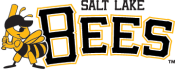 Salt Lake Bees players Terry Evans, Adam Pavkovich and Brandon Wood left Spring Mobile Ballpark in the dust Wednesday morning for a visit with patients at Shriners Hospital for Children.
A temporary home to nearly 20 children with special orthopedic needs, today's Shriners' patients ranged from those with spinal cord injuries, broken bones and missing limbs. The Bees players brought in their own rehabilitation for the children, playing catch, shooting hoops, playing ping pong and just plain chatting it up. The near two hour visit was a positive for both the players and the patients. "It was a great opportunity to come up here today. I had fun getting to know the children and their families," said Wood.

Outfielder Terry Evans knows that "it's easy for people to lose perspective of the struggles that some have to go through. Anything that we can do to brighten a kid's day and help them forget they're in a hospital or about to have surgery or whatever, we're happy to do it."
The players took photos and left autographed photos with the children.