Here is a link to the original story on the team's website.
In recognition of Black History Month, Bisons.com celebrates the many accomplishments and successes of Black players who have suited up and taken the field for the Buffalo Bisons. From the early days of Frank Grant to the iconic swings of Luke Easter to the members of today's modern era Herd, Black players have had a profound impact on this franchise, both on the field in the Queen City and beyond.
Of course, it would be impossible to list all of the great Black players who have played a role in shaping a Bisons franchise history that has now reach 136 seasons… but we wanted to do our best to share some of the many stories and feats of some of the best to ever call themselves Bisons.
Buffalo's Best Before the Lines were Drawn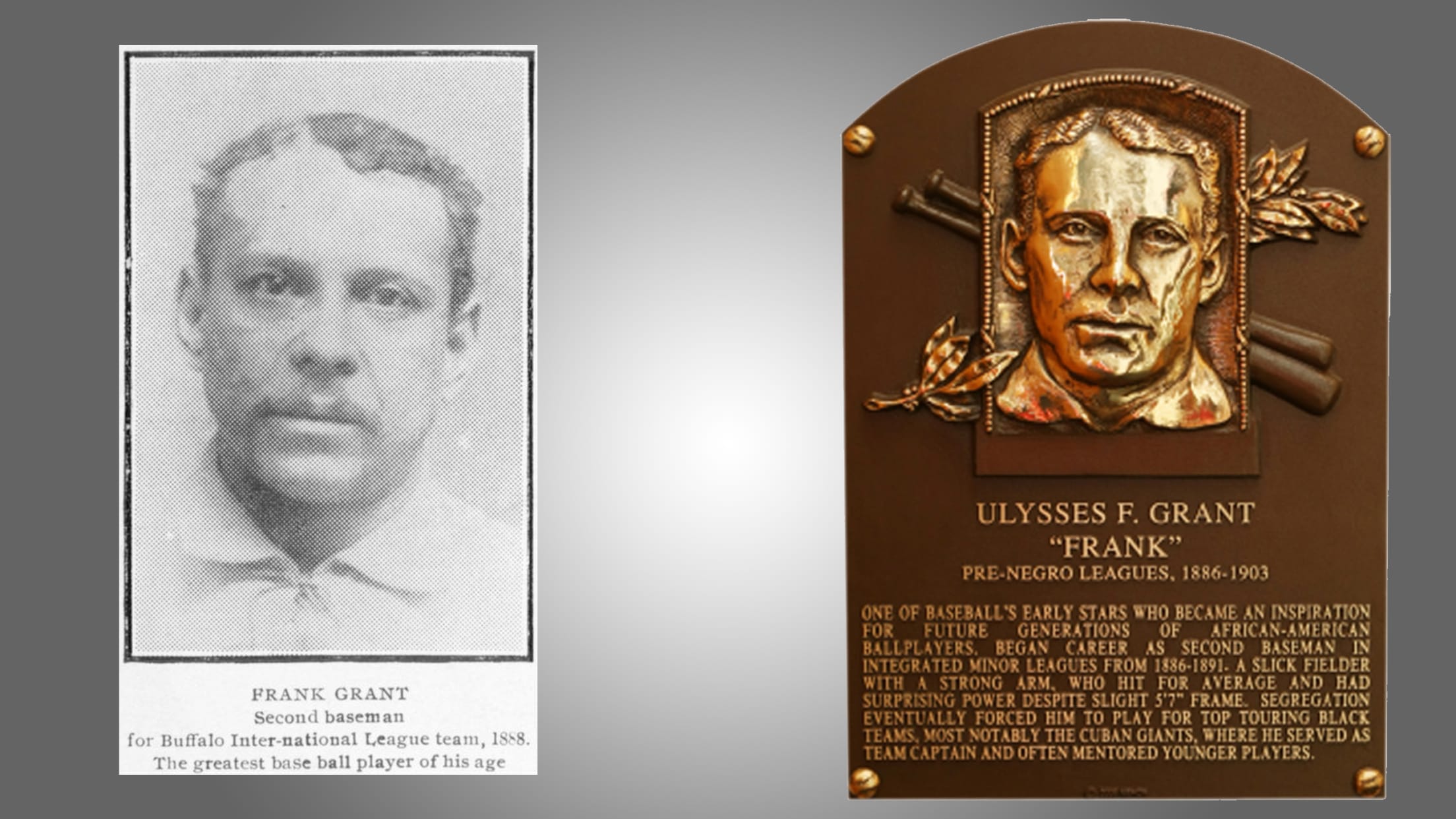 Frank Grant led the Bisons in average and slugging percentage all three seasons he played with the team, 1886-1888
Every baseball fan knows that Jackie Robinson broke the color barrier when he played for the Brooklyn Dodgers in 1947. But many might not know that the most talented Black player to play before the color line was drawn may just have been the Buffalo Bisons second baseman.
Ulysses Franklin "Frank" Grant played three seasons with the Bisons from 1886-1888 and led the team in average and slugging percentage in each of those campaigns. He was also the only Black player before the 1940s to play three consecutive seasons with one club in organized baseball. He hit .344 in his first season with the Bisons and wowed fans with his acrobatic fielding at second. A year later, he batted .366 and led the league with eight home runs. He tripled, homered twice and drove in eight in one game and stole home twice in another contest. In his last season in Buffalo, he averaged .331 with a career-best 11 home runs.
It's no surprise, however, that Grant faced growing racial abuse during his career with the Bisons, from fans, his opponents and even his teammates. He was forced to wear wooden shin guards in the field because runners would purposely slide late and with their cleats up in an attempt to injure him. That eventually resulted in the Bisons moving Grant to right field in order to provide him some protection. While he was popular with Buffalo fans for a while -even owning a tavern during one offseason- he heard racist catcalls and chants during road games. And a closer look at the Bisons 1887 team photo shows that all the players put their hands or arms on other teammates in a sign of solidarity, with the lone exception of Grant who no one would touch. Buffalo manager John Chapman even referred to Grant as a 'Spaniard' or an 'Italian' in an attempt to play down his race.
Even with the color line being drawn before the 1889 season, Bisons owners Jack Rowe and Deacon White tried to sign Grant and said "If Grant would only come out of his hiding place, a spot would be found for him." (Express). However, Grant had played his last game in Buffalo and never returned to the city. He would play off and on for many years with the Cuban Giants before his death in 1937. Along with his induction into the Buffalo Baseball Hall of Fame 100 years after his final game with the team, he was posthumously inducted in the National Baseball Hall of Fame in 2006.
Luke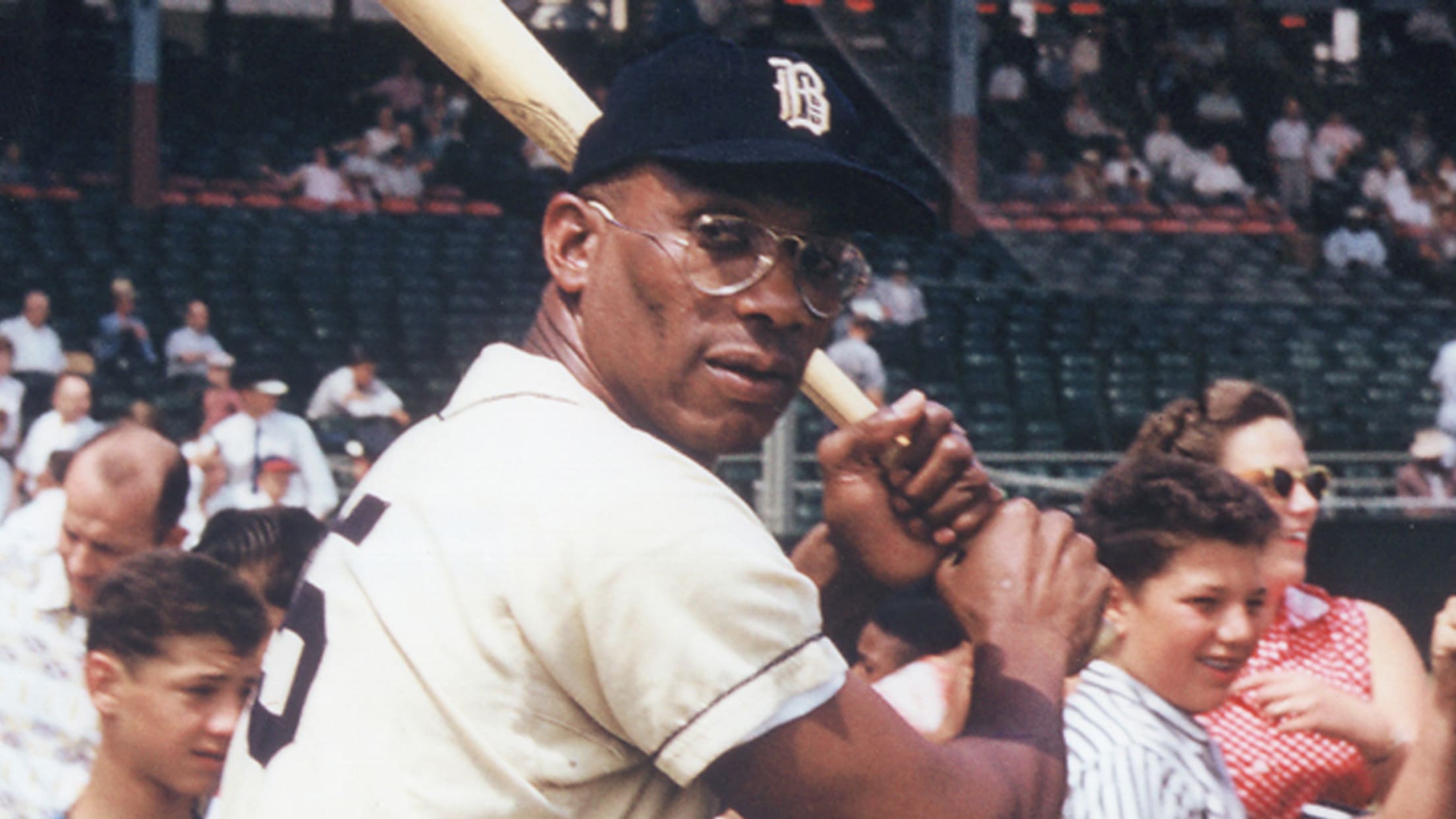 Luke Easter's "25" is one of only three numbers retired by the Buffalo Bisons organization.
Following Grant, the next Black player to play for Buffalo wasn't until 68 seasons later… but he was quite possibly the greatest Bison of all time. A man so popular whose feats were so memorable that not only is his jersey number one of only three forever retired by the team, he can also be quickly identified by Buffalo sports fans by just his first name; Luke.
Luscious Easter was a giant in every sense of the word. From his six-foot, four-inch, 240-pound frame to the massive home runs he hit out of Offermann Stadium, Easter was a folk hero.
"Buffalo fans have always worshipped their sport heroes, but few have ever attained the near mythical status accorded to Bisons great Luke Easter." — plaque in the Greater Buffalo Sports Hall of Fame
Easter first joined the Bisons in 1956, signing on with the club two years removed from his sixth and final season in the Major Leagues. For the newly independent Bisons franchise that had just decided to sell stock to the general public in a plan to become community owned, the timing to add their most iconic player couldn't have been any better.
"He was the ideal man for the situation, with his outgoing personality, his charisma and his ability to hit the long ball," The 100 Seasons of Buffalo Baseball.
From 1956-1959, Easter hit 114 home runs and drove in 353 with the Bisons. Of his many memorable games, he will always be remembered for one at-bat on June 14, 1957 when he became the first player ever to hit a home run over the Offerman Stadium centerfield scoreboard, which stood 60 feet tall and 400 feet away from home plate. It's estimated the ball traveled as much as 550 feet.
Two months later, Easter accomplished the feat again. And with Offermann Stadium seeing its last game in 1960, Easter went down in history as the only player to ever clear the scoreboard… and he did it twice!
A member of both the International League and the Buffalo Baseball Hall of Fame, Easter's iconic status still holds strong as one of the greatest athletes of any sport the City of Buffalo has ever seen.
Following Easter's unforgettable tenure with the Bisons, the team had a number of different Major League affiliations that produced some legendary players. One of Easter's teammates during the partnership with the Kansas City Royals (1957-1958) was outfield Joe Caffie, who lead the team in batting average twice, including an International League batting title in 1957 with a .330 mark. Nicknamed 'Rabbit,' Caffie led the Herd in triples twice and stolen bases once in his four standout seasons and helped Buffalo capture their third Governors' Cup Championship in 1957.
Buffalo's affiliation shifted to the Phillies from 1959-1962 and produced one of the greatest single season performances in team history. In his lone year with the Bisons, outfielder Ted Savage was named the 1961 International League Most Valuable Player after leading the circuit with a .325 average to go along with 24 home runs and 65 RBI. Savage also led the Bisons with 29 doubles and 31 stolen bases to help the club capture the Governors' Cup and the Little World Series that season. A year later, Philadelphia sent 19-year old pitcher Fergie Jenkins to Buffalo in his first year as a pro. The future Baseball Hall of Famer appeared in three games for the Herd.
Highlighting a three-year affiliation with the Mets from 1963-1965 was an outfielder dubbed the Amazins' first home-grown superstar, outfielder Cleon Jones. Before appearing in 1,201 games for New York, Jones spent two seasons with the Bisons and hit .274 with 31 home runs and 119 RBI in 260 games.
Another Color Line is Broken… by a Bison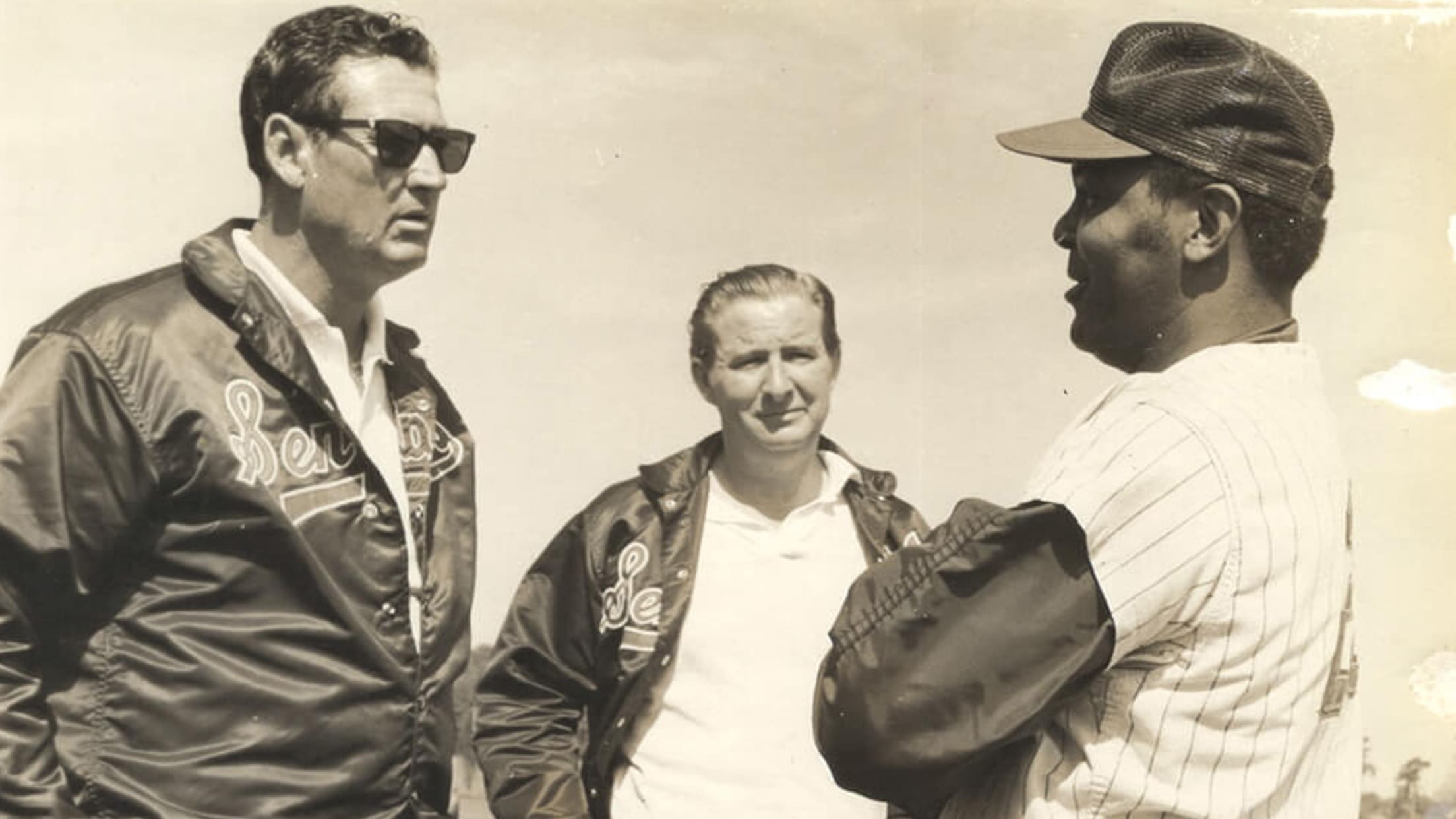 Hector Lopez (right) speaks with Washington Senators manager Ted Williams (left) and team owner Bob Short in Senators spring training in 1969 Sportsnet.CA
During his 12-year Major League career, Panamanian-born Hector Lopez won two World Series Championships, and despite nearly 1,500 Big League games, his most notable recognition might have been the answer to the trivia question of 'Who was that other outfielder that played along Mickey Mantle and Roger Maris for the Yankees?' That would be until three years after his final game in pinstripes when Lopez accomplished something no one else had ever done.
It was in Spring Training of 1969 when another baseball legend had an idea for who would manage the Buffalo Bisons. Recently named the skipper of the Herd's Major League parent club Washington Senators, Ted Williams remembered Lopez from days of playing New York. When 'The Splendid Splinter' picked current Bisons manager Wayne Terwilliger to be his big league third base coach in D.C., he offered the top spot in Buffalo to Lopez.
The 39-year old Lopez had hit .258 with 13 home runs and 53 RBI with the Bisons a season before and had gone to camp figuring it would be his final year as a player. Instead, he decided to take Williams up on his offer and thus made history as the first Black manager for any team at the Triple-A level or higher.
"I am proud to be the first Negro to manage in the International League," said Lopez at an introductory press conference ("The 100 Seasons of Buffalo Baseball").
To that point, there had only been two Black managers in all of minor league baseball, at the lower levels of the Pittsburgh Pirates system. Lopez's one year on the bench came six years before Frank Robinson became the first Black manager in the Major Leagues.
Unfortunately, the 1969 Bisons team didn't give Lopez much to work with as the Herd produced just a 58-78 record and a second-last place finish. Buffalo had the lowest batting average in the league and scored 62 fewer runs that the season before. After a year of poor attendance and bad field conditions, the Senators canceled their working agreement with the Herd and moved their Triple-A team to Denver. Lopez moved on to coach in the Venezuela Winter Leagues before eventually becoming a scout in the Yankees organization.
The Modern Era MVPs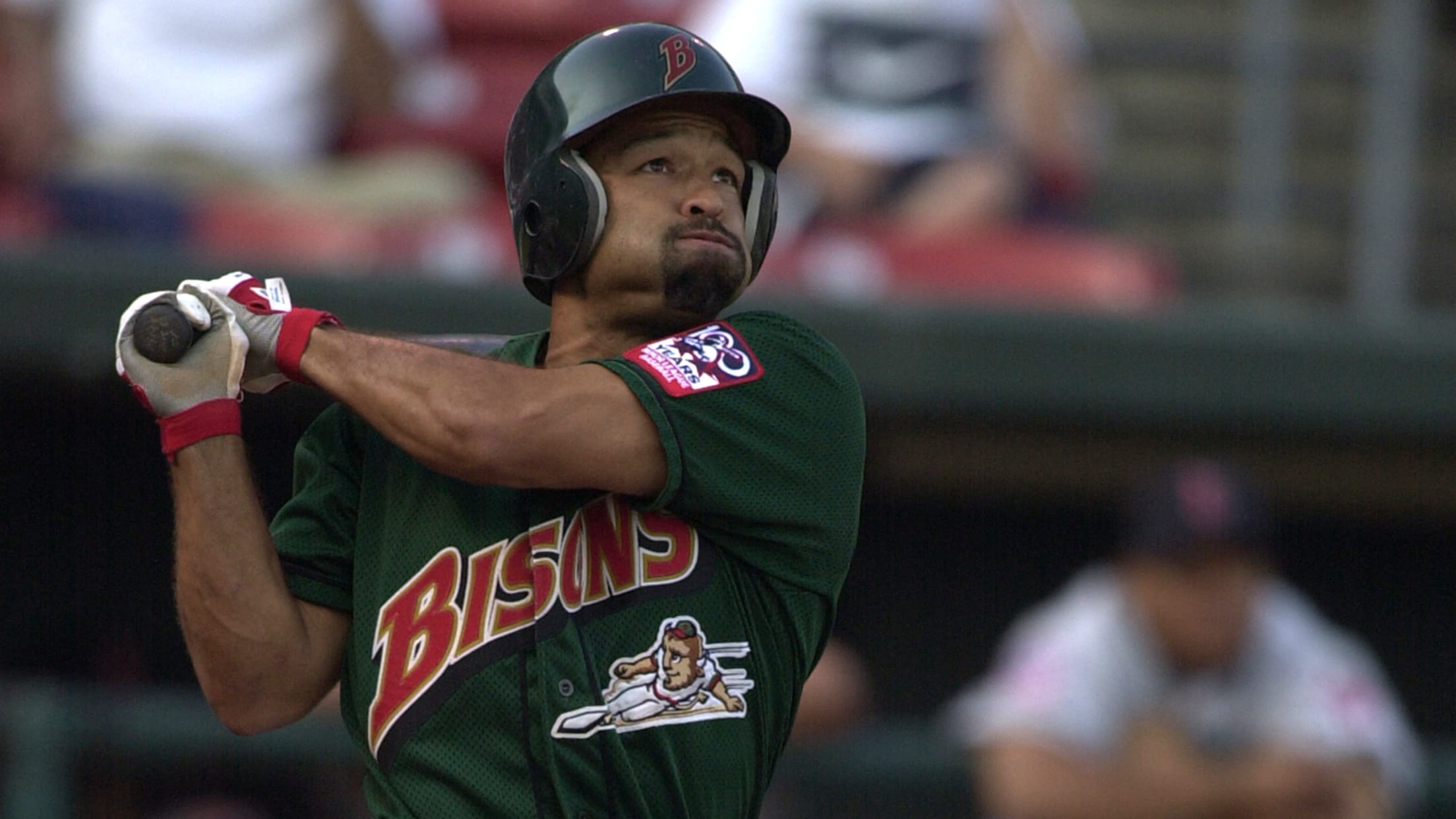 No player has stolen more bases in the Bisons modern era that current Dodgers manager and World Series Champion, Dave Roberts.
Since the club's return to the Triple-A level, the team has had a number of standout Black players take the field for the Herd, both up-and-coming prospects and established baseball veterans. Since the award was first given out in 1985, there have been seven Black players named the team's Most Valuable Player. Outfielder Dave Clark (Buffalo Baseball Hall of Fame 2008) was the first to take home the honor in 1987 after a dominating year that saw him hit a modern-era best .340 with 30 home runs in just 108 games.
Two years later, outfielder Steven Henderson capped his 16-year playing career by hitting .298 with 33 extra-base hits in 100 games as Buffalo MVP. Then, the next Bisons slugger to get to 30 home runs after Clark was outfielder Nigel Wilson, who was the first to do so at Sahlen Field. Wilson also hit .299 and drove in 95 runs to claim his team MVP honors.
The future World Series champion manager, outfielder Dave Roberts (BB HOF, 2013) is still the Bisons modern era stolen base king with 97, including 39 during the 2000 season he shared MVP honors with pitcher Chris Nichting. Outfielder Ben Francisco was a Co-MVP in 2006 after hitting 17 home runs and stealing 25 bases… the season before he won the IL Batting Title with a .318 average. Buffalo's final season with the Mets in 2012 was highlighted by outfielder Fred Lewis, who lead the team with a .294 average and 46 extra-base hits before he was named team MVP. And the incredible story of once mail-carrier turned outfield prospect Roemon Fields culminated in 2017 when the speedster broke the club's single-season stolen base record with 43 while hitting .291 and earning the team's top honor.
Dorn, Tubbs and many more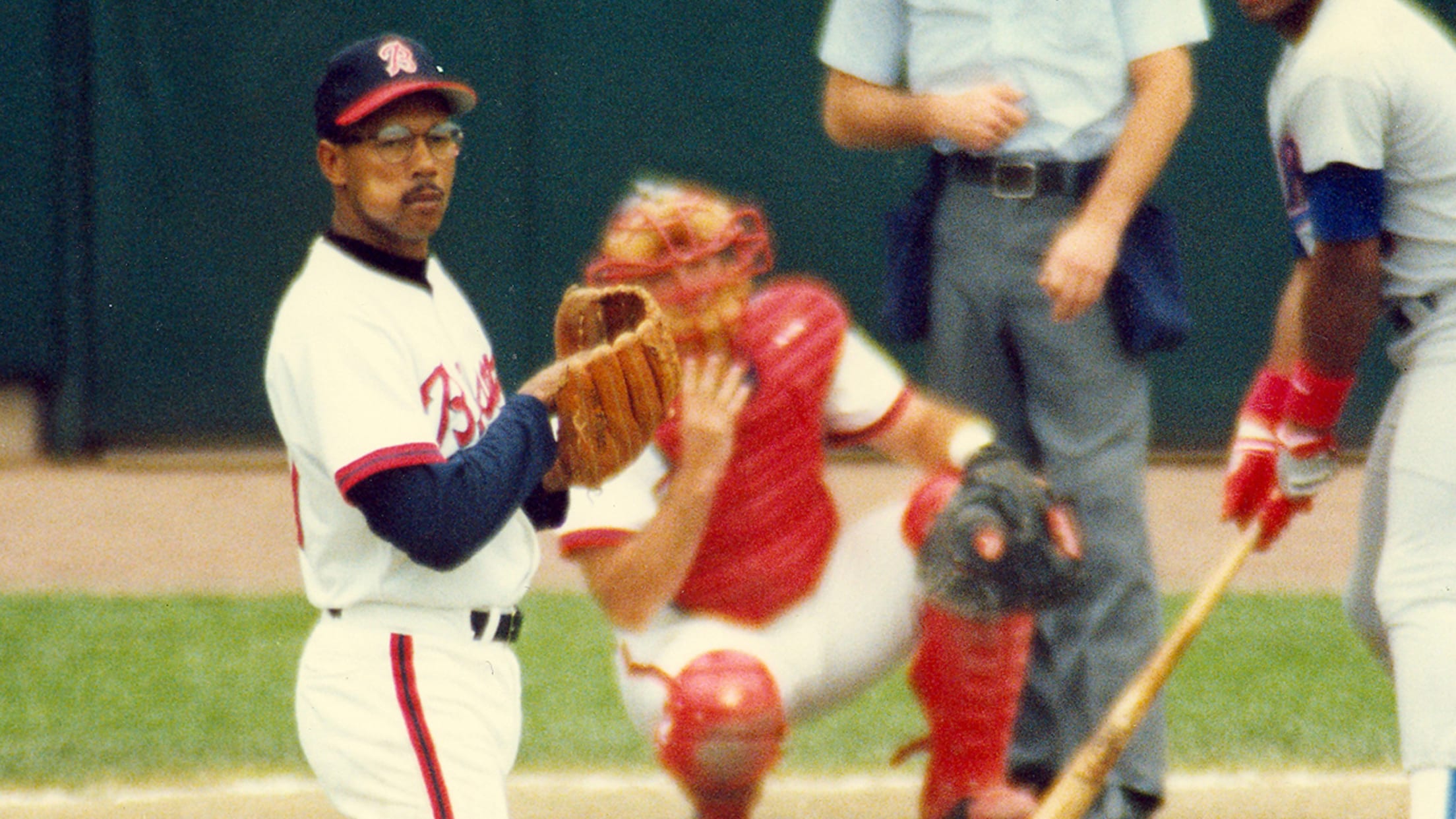 No pitcher has come close to the success Dorn Taylor had at Sahlen Field, posting a 21-7 record and a 1.55 ERA in 39 starts in front of the hometown fans in Buffalo.
The greatest Bisons pitcher in the modern era always saved the best for the fans in Buffalo. Righty Dorn Taylor made 78 appearances for the Herd from 1988-1990 and was 34-22 with a 2.59 ERA in over 500 innings of work. A 1998 inductee into the Buffalo Baseball Hall of Fame, Taylor was twice named an American Association All-Star and led the league with a 2.14 ERA in '88. His razor-thin 1.55 ERA pitching at Sahlen Field is not only best in the ballpark's history, but his 21 victories at the corner of Washington and Swan are five more than any other hurler.
Of course, Taylor had some help from teammate Morris Madden, but not because of the latter's 17 wins and 3.43 ERA in his 47 appearances with the team from 1988-1989. When Taylor heard Madden's rendition of the Star Spangled Banner before on Bisons game, he made sure the Bisons played his teammate's anthem before each of his home starts.
In the club's first season at Triple-A in 1985, future big league star Daryl Boston led the Bisons with 15 stolen bases while hitting .274 with 10 home runs in 63 games. In 1992, third baseman Kevin Young delivered Buffalo's only 'Rookie of the Year' award in the last 60 years when he hit .314 with eight homers and 65 RBI for the Pirates-affiliated Bisons. Young had a pair of great teammates that year with American Association All-Star outfielder Al Martin (.305-20-59) and outfielder Greg Tubbs, who produced the second of his three 100-hit seasons for the Herd in 1992, becoming the first Bisons hitter to accomplish that feat. Tubbs was inducted into the Buffalo Baseball Hall of Fame in 2014.
In 1994, outfielder Tony Womack set the Bisons modern era single-season steal record with 41 that stood until Field's MVP campaign in 2017. Womack was caught just 10 times in an incredible year on the base paths.
Shortstop Damian Jackson was an AA All-Star in 1996 thanks to 12 home runs and 49 RBI in 134 games, a year before he helped the Herd win the title in '97. A season later, one of the game's biggest names in pitching, pitcher Dwight "Doc" Gooden, came to Buffalo to make a pair of injury rehabilitation stints with the team totaling five starts. And a fan-favorite during the club's affiliation with the Cleveland Indians, outfielder Coco Crisp hit an impressive .350 in his 60 games and two seasons with the Herd, 2002-2003.
The Young and the Talented on the 2004 Champions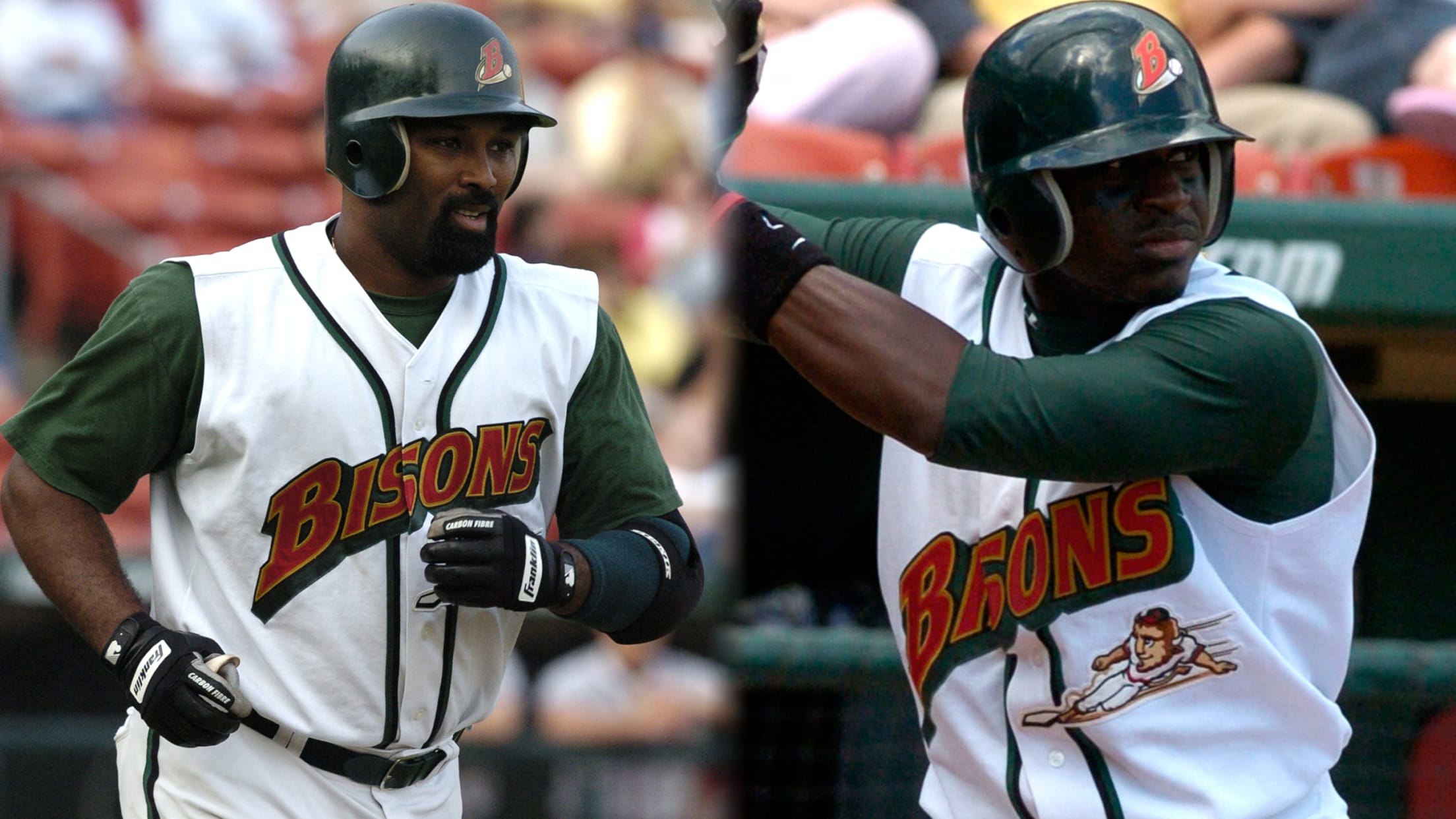 Ernie Young and Brandon Phillips combined for 290 hits, 60 doubles, 35 home runs, 150 RBI and 154 runs scored in 2004.
The Bisons won the International League Governors' Cup in 2004 with one of the most potent lineups in the history of the circuit. And while Jhonny Peralta rightfully took home the hardware as IL's Most Valuable Player, two other Bisons hitters could've easily been given the award for their incredible campaigns that year.
The first was a budding star in infielder, Brandon Phillips. The 23-year old was a constant force in the Herd's lineup, averaging .303 over 135 games and collecting 158 hits, a total that would've been a modern era single-season record if not for Peralta's 181 that same year. Phillips did get his name in the record books anyway by reaching base safely in 51 consecutive games that season.
It should be no surprise that the future Big League Gold Glover made his biggest impact on the 2004 Bisons in the field. In perhaps the greatest defensive play in Bisons history, Phillips saved the Herd's season in Game 3 of the IL Semi-Finals with an acrobatic spin and throw of a bloop single that prevented the Durham Bulls of adding to their 2-0, seventh-inning lead. After that play, the Bisons rallied to win that game and two more to overcome a 2-0 series deficit before eventually also defeating the Richmond Braves for the title.
Juxtapose to the youngster Phillips on the '04 Bisons was 35-year old outfield/designated hitter, Ernie Young. With 286 Big League games and an Olympic Gold Medal already to his name, Young was part of the veteran leadership that helped the team overcome a dreadful first 40 games to the year. A future International League and Buffalo Baseball Hall of Famer, Young became just the third Bisons player to drive in 100 runs in a season and was fourth in the league that year with 27 home runs to go along with a .299 average. An All-Star in 2005, Young totaled 47 Bisons home runs in 229 games with the team.
The Accomplishments Continue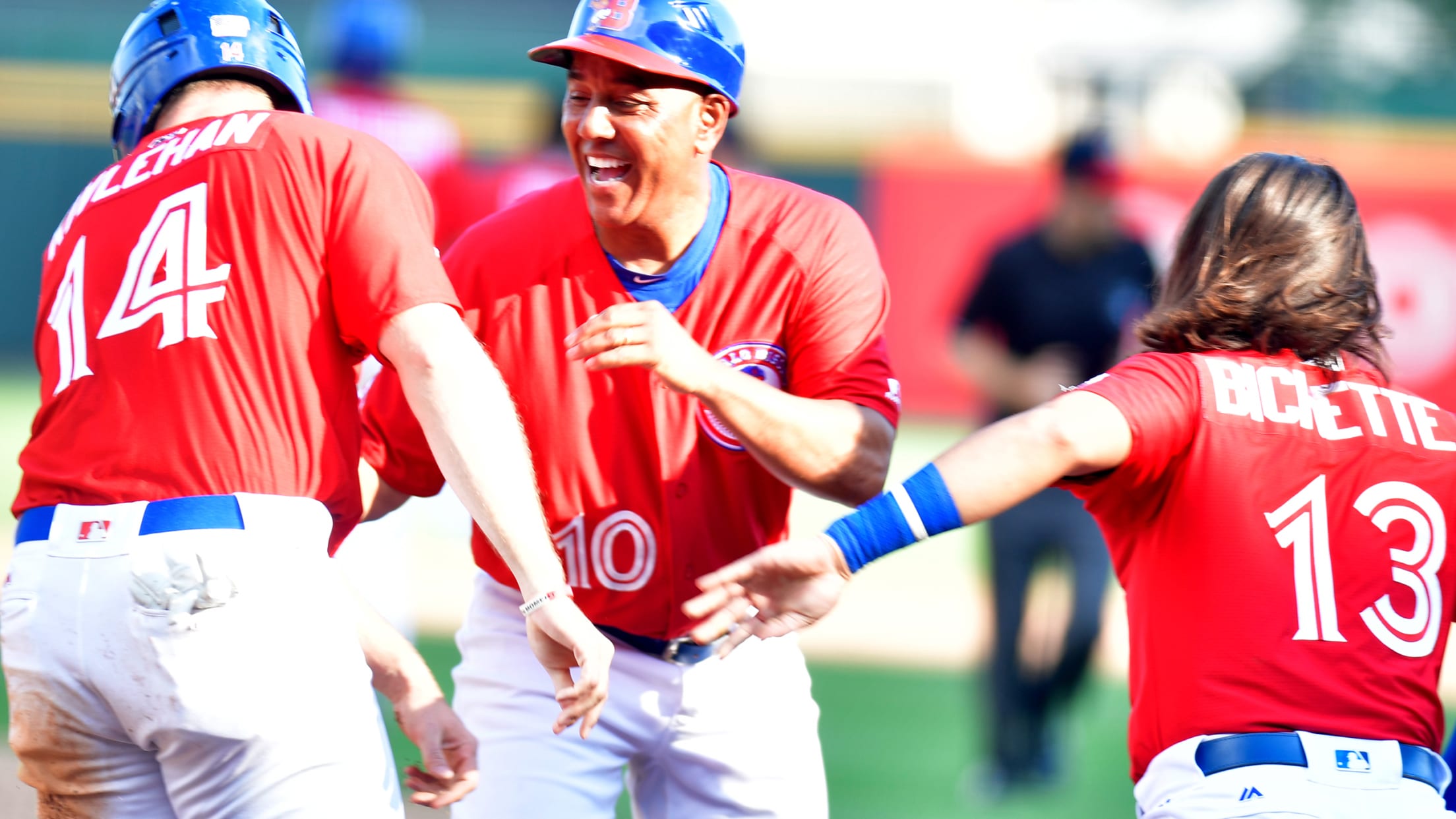 Bobby Meacham celebrates with Patrick Kivlehan and Bo Bichette following the Bisons walkoff win in game one of a July 3rd doubleheader in 2019. Michael Majewski
As has been seen throughout the game of baseball and in sports in general, the many accomplishments of Black players on the Bisons has continued in recent years. An infielder with the Herd in 1989, Bobby Meacham returned to the Herd to become the team's first Black manager since Lopez and won 197 games from 2017-2019. Outfielder Anthony Gose stole 20+ bases in back-to-back seasons in 2013-2014, including a straight steal of home that was one of the plays of the year in 2013. The 2014 season marked the Triple-A debut of righty Marcus Stroman and the future MLB Gold Glove and All-Star would strike out 50 over 38.2 innings and eight starts with the Herd. Joining Fields on the 2017 Bisons was outfielder Dwight Smith Jr., who would hit .271 with 62 extra-base hits and 88 RBI in 193 games over the next two seasons.
Ballpark Icons off the Field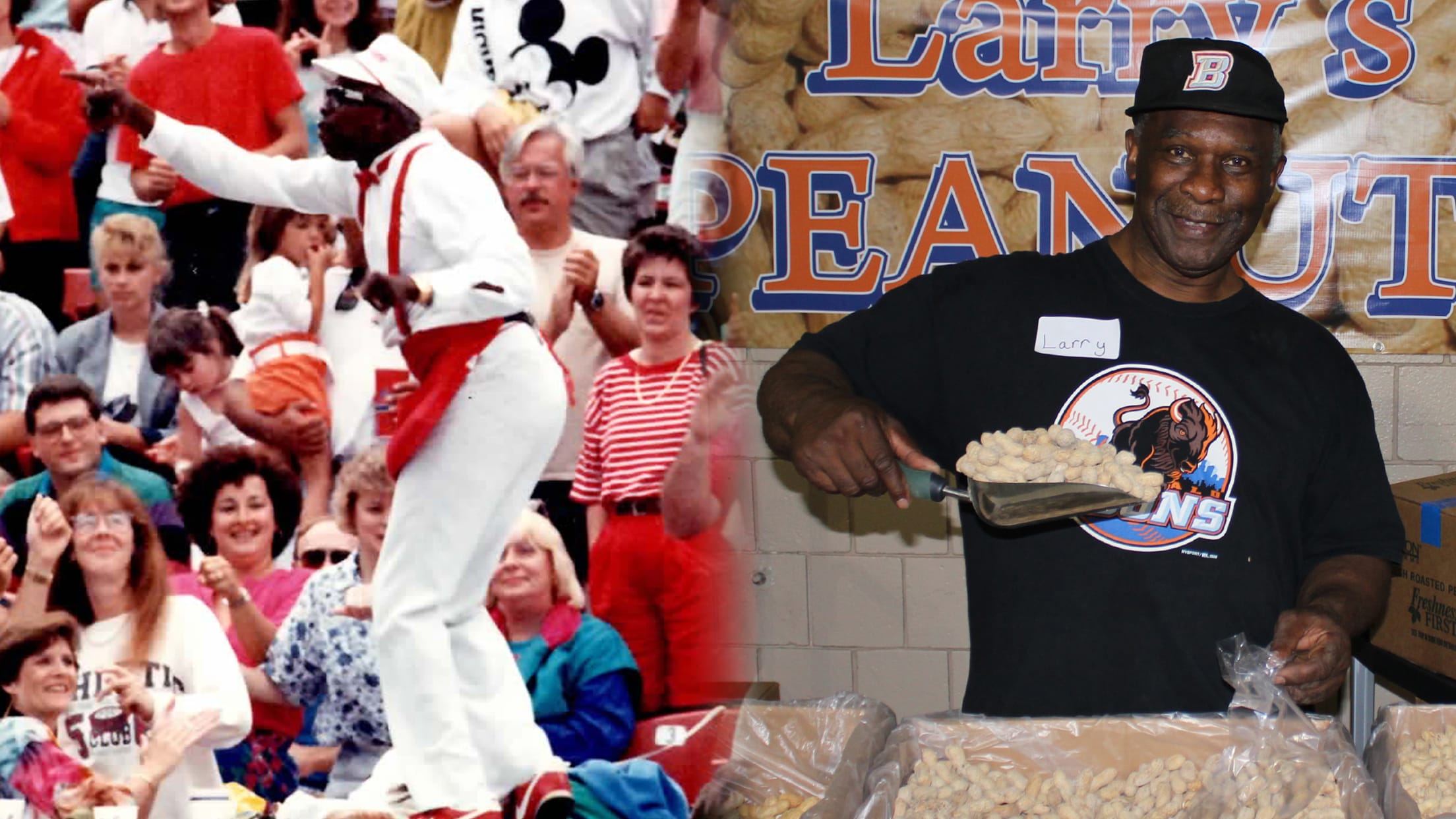 'The Earl of Bud' and Larry 'The Peanut Man' were fan favorites and instrumental in the success of the Bisons Baseball Experience.
When recognizing the many great accomplishments from Black people to baseball in Buffalo it would be easy to just stick to home runs, strikeouts and stolen bases. But for the Bisons Baseball Experience that has become so beloved by so many, what happens off the field is just as important as what happens on it and there are two individuals who can only be classified as ballpark icons, Earl Howse and Larry Owens.
Of course, to Bisons fans they are "The Earl of Bud" and "The Peanut Man."
As popular as maybe any sports figure in Buffalo in the late 80s and early 90s, the charismatic Howse was one of the main attractions at Bisons games for nearly two decades. Adorned in his classic white tuxedo with flowing tails and "The Earl of Bud" scripted on the back, the beer vendor brought the house down nightly when he climbed atop the dugout and danced to Pee Wee Herman's rendition of "Tequila." In-between dances, fans would circumvent the entire ballpark just to get beer from Earl.
Howse also performed at Buffalo Sabres games and many didn't know he was also a Buffalo firefighter. But to Bisons fans, he might be as responsible as anyone for the success of the club's motto, 'Every Game is an Event."
While it might have been tough to keep pace with The Earl, Bisons fans knew exactly where to find Owens on game day. In fact, Section 104 of the main concourse was the first stop for many as soon as the ballpark gates opened in order to grab a fresh bag of peanuts -regular, salted or cajun- from "The Peanut Man."
Owens served Bisons fans with a warm infectious smile from 1988-2016 before his passing at the age of 71. During that time, he connected with so many of his customers, using an amazing memory to recall names and to ask heartfelt questions. A plaque dedicated to Owens will forever mark his area at Section 104 of the ballpark.