Here is a link to the original story on the team's website.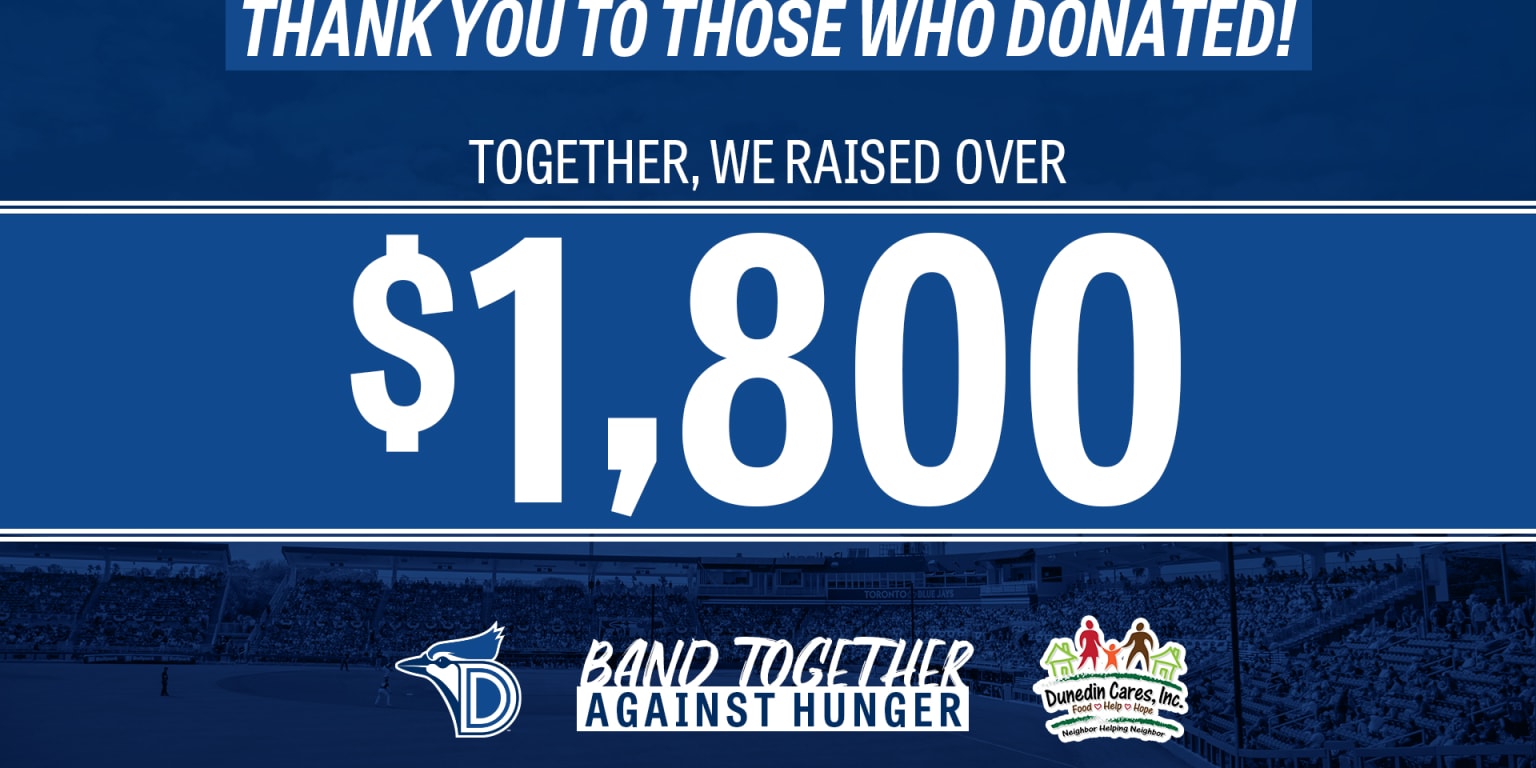 DUNEDIN, FL – The Dunedin Blue Jays Band Together Against Hunger campaign concluded on May 31st benefiting Dunedin Cares Inc. The campaign was a massive success raising $1,865 for Dunedin Cares Inc. over the entire month of May with all donations received going directly to the food pantry. The Dunedin Blue Jays will in turn be donating over 180 tickets to a future Dunedin Blue Jays game for essential workers during the COVID-19 pandemic in the Dunedin community.
Coordinator of Community Relations, Matt Woak commented on the success of the campaign stating, "The Dunedin Blue Jays organization appreciates the outpouring of support from our fan base in helping the local Dunedin community. We are certain these donations raised will give a much-needed boost to Dunedin Cares Inc. during these difficult times of the pandemic. Our organization also looks forward to hosting essential workers at a future Dunedin Blue Jays game to thank them for their dedication to our community in this time of need."
Dunedin Cares Inc. President, Joe Mackin echoed these sentiments saying, "Dunedin Cares Food Pantry is grateful for the partnership with our hometown baseball team, the Dunedin Blue Jays. The Jays chose us to as the local non-profit to benefit from the community donations and in turn, the Blue Jays are donating over 180 baseball tickets to those workers in the front lines of helping and serving others. This togetherness is all about neighbors helping neighbors."
ABOUT DUNEDIN BLUE JAYS
The Dunedin Blue Jays have been the Class A-Advanced Minor League affiliate of the Toronto Blue Jays since 1987. Dunedin, Florida is also the home of Toronto Blue Jays Spring Training. The Dunedin Blue Jays are committed to enriching the lives of those in our local community by giving back to organizations. Through various community initiatives, we are striving to enrich the lives of our neighbors and those in need through the power of Dunedin Blue Jays baseball by promotion of education, health, and baseball within our local communities.
ABOUT DUNEDIN CARES INC.
Our goal is to ensure that our neighbors in Dunedin & surrounding communities have a caring and respectful environment to shop our pantry shelves and provide food for their families. We believe in Neighbors Helping Neighbors. Dunedin Cares, Inc. Food Pantry opened our doors on November 12, 2015. Statistics indicated that even in our delightful city of Dunedin, Florida, there were pockets of people who are "food insecure", where children go to bed hungry and elderly choose to purchase their medication over food.